July 29th, 2019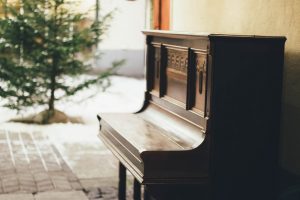 My mother had great hopes and dreams for me, as all mothers do for their children in one way or another. I was named Connie after singers Connie Stevens and Connie Francis because she wanted me to sing and play the piano.
Another singer she admired was Constance "Connee" Boswell, born in her home state of Missouri and part of "The Boswell Sisters" jazz harmony group. Connee was a gifted jazz vocalist, unable to walk after a childhood bout with polio, and a great influence for Ella Fitzgerald.
Ella once said, "My mother brought home one of her records, and I fell in love with it…I tried so hard to sound just like her."
At least my mother never said anything like "Ella Fitzgerald listened to her mother, why won't you?" or anything similar. Instead, when I whined one too many times about not wanting her to give me piano lessons she silently gave up. I was about ten years old and we were using the piano at the church we were attending. They had given her the key to their music room and twice a week after school she would give me a lesson.
I wanted to learn to play songs I knew and liked. She wanted me to learn the basics and start with practicing the scales and then move into classical music, as she had been trained to do since she was five years old. We had reached a stalemate and there would be no negotiations.
We both got our way but nobody won on that day. Her dream for me to play the piano and sing died as she handed the key over to the pastor. It would be another decade before I realized what I had given up and even longer before I would admit to myself this was the biggest regret of my life.
But I did much more than kill her dream with my childish behavior and attitude. On that day her hope died. And for doing that to my mother I will always be sad. A dream can be revived, rekindled, restored, renewed, reborn. When hope dies there is no return to the previous state unless something or someone comes along to serve as a catalyst and help make it happen. It wasn't in me to take those steps. I did not understand how life worked. My life was one of mediocrity and would be for the next three to four decades.
If you have seen the film Shawshank Redemption you know that hope is a recurring theme.
In the beginning of the film, when Andy and Red are becoming friends Andy says, "Remember Red, hope is a good thing, maybe the best of things, and no good thing ever dies."
To which Red replies, "Hope is a dangerous thing. Hope can drive a man insane."
Some time later, after Andy escapes from the prison he sends Red a letter. In it he says, "Remember, Red, hope is a good thing, maybe the best of things, and no good thing ever dies. I will be hoping that this letter finds you, and finds you well."
Red's hope is renewed and when he is finally released from the Shawshank prison, he is ready to seek out Andy and live out his days working side by side with him in Mexico.
At the end of the film Red says, "I find I'm so excited that I can barely sit still or hold a thought in my head. I think it's the excitement only a free man can feel. A free man at a start of a long journey whose conclusion is uncertain. I hope I can make it across the border. I hope to see my friend and shake his hand. I hope the Pacific is as blue as it has been in my dreams. I hope."
It wasn't until decades later, as a woman in my forties that I helped to restore and renew the hope my mother had lost. She was close to eighty when I surprised her with the piano. There had been a sale at the community college's music department and I had made an appointment to see if there was something I could afford. When I saw the brown Baldwin upright I silently prayed it would be in my price range.
The delivery truck arrived on a Thursday, just days after her birthday and two full weeks before Christmas. I made her close her eyes as I guided her out the front door and on to the side of the driveway. She was confused until she realized what was happening.
"What did you do, Connie?" she said with a smile in her eyes.
Tears streamed down her withered face and she squeezed my hand as she had when I was a child and she wanted me to know how much she loved me without saying the words.
Playing again after so many years was not easy. I would sit down on the bench with her as she would begin one piece and then switch to another. Tchaikovsky was her favorite. Sometimes one piece would morph into another and I would smile and tell her she was creating a mashup like the young people.
I praised her as she had praised me so many years ago. Then she would get embarrassed and frustrated and refuse to play another note. Refusing to play as I has refused so long ago. I knew she had long since put that time out of her mind, but nevertheless it was as if she were showing me what that felt like. The tears burned my eyes as they welled up but would not fall to my cheeks.
I didn't learn to play the piano. I do not sing, at least not very often or very well. I gave up tennis and dancing and several other things my mom hoped and dreamed I would do. But my memories of what she wanted for me live on. She lived long enough to hold my first published book in her hands. My success as an author, publisher, and entrepreneur enabled me to provide well for her during her last years of life. And though she seldom verbalized it, I knew she loved me and was proud of my accomplishments, of my hopes and dreams for myself.
I'm Connie Ragen Green, teller of stories great and small and a traveler to faraway destinations where hopes and dreams are turned into a personal reality.