The Trip That Changed How I Thought About My Life
She was a beautiful baby. When I opened the envelope containing the slightly blurry photo, taken at the hospital just moments after this little angel drew her first Earthly breath, I knew I'd do whatever I had to do to see her in person. But that would be easier said than done.
It was December of 2000 and I was a classroom teacher. I also worked in real estate part-time to make ends meet, and had little in savings. But none of that mattered as I gazed into her cherubic face while standing at the mailbox that day.
Three of us would be going the following summer. Each paycheck I would put twenty or thirty dollars into the legal size manila envelope with the photo carefully taped on the outside. I would speak out loud to her and say that we would be meeting soon. All three of us scrimped and saved and did without everything that wasn't absolutely necessary. In May I called a lady I had met at an Open House who worked as a travel agent and asked her to check the fares.
By July we had enough money to book the flights and we emailed the family in Finland to tell them we were coming. When I asked what Baby Melissa would like for me to bring her, the answer came quickly: Winnie the Pooh. It was her favorite and they were very expensive in Europe. I promised to bring one that wasn't too big and told my stepdaughter I wanted to place it in the baby's arms personally.
We arrived in Helsinki on the morning of Saturday, August 25th. We'd have two full weeks there. We'd return on Saturday, September 8th and I'd report back to school on Monday the 10th.
I held the stuffed animal close to my face, and when I rounded the corner from the kitchen into the den she caught a glimpse of us out of the corner of her eye. She was nine months old now and able to pull herself up to the sofa cushions. And then she spoke, for the first time I believe, and her words were perfect.
"Winnie the Pooh,"she said in a whisper.
My heart melted as I handed over the golden bear to its new caretaker. She squealed softly and smiled just wide enough to expose a few porcelain white teeth. I held her and her mom and Winnie the Pooh in an embrace that caused my life to flash in front of my eyes. I would see this girl grow up. I would be there as often as possible and not miss anything, I promised myself.
~ ~ ~ ~ ~
Monday morning was a "pupil free" day where the teachers had time to organize their classrooms and visit with one another. For the first time in my fourteen years of teaching I had been assigned to teach 3rd grade. I was used to 5th and 6th graders and hoped this would be a good fit for me and for them this school year. After lunch, a few of my students from the previous year stopped by to say hello. Two of them each had a younger sibling who'd been assigned to my class.
Now it's Tuesday. Feeling both excited and nervous, I leave for school without turning on the television or radio to catch the latest news.
I arrived in the parking lot even earlier than usual on that first day of school. It was 6:05 when I glanced down at my watch. I thanked the custodian as she let me in and made a beeline straight to Room 21. It was on the other side of the campus from where I'd been in the past. The extra walking would be good for me, I thought as I shifted my purse and bags. Usually I turned on the radio until about seven, but on this day I didn't want to be distracted in any way. A new school year and a new grade level deserved my full focus and attention that morning.
At six-thirty I stepped outside the classroom to have a look around. Students and teachers were beginning to arrive. The sun was shining brightly and I could feel in the air that it would be very warm by noon. Then the bell rang, and rang again, and again, and on the fourth ring I could see the other teachers going back inside so we could hear the announcement over the intercom. A plane had flown into the North Tower of the World Trade Center in New York. Terrorism was suspected but they didn't know for sure.
I sat down at my desk to take this all in. It didn't seem too scary at the time. And we were in Los Angeles, so there wasn't any danger for us. I put a new, sharpened #2 pencil on each desk. I adjusted the blinds to take the glare off the white board. I took my water bottle out of my purse and placed it on my desk. And as I was doing each of these things, the second plane was flying into the South Tower.
A girl was crying just outside my door. I opened it all the way and put the doorstop down to keep it open. More students were arriving. And now some parents were returning to take their children back home.
During a period of one hour and seventeen minutes that morning, four planes had crashed into the World Trade Center towers in New York City, the Pentagon in Washington, D.C., and an open field in Shanksville, Pennsylvania. The result is 2,977 fatalities, more than twenty-five thousand injuries, and more courageous heroes than you can count The world is forever changed, and we will never forget.
~ ~ ~ ~ ~
It would be another hour before I thought about my friends on the 102nd floor of the North Tower. I had known most of them since I was a teenager living in Miami. The family owned an international shipping company with offices in Coral Gables, Florida; Oslo, Norway; and in the World Trade Center in New York.
For almost three decades, I had seen them every time I was in New York City. I'd take the elevator up to their floor and spend some time visiting with whomever was there that day. They always made sure that I, and anyone who was with me could enjoy the view of the city from all angles. I had last spoken them when I visited for a few days just before Christmas in 1998. Had it really been almost three full years since I'd seen them in person?
Surely they were alright. I still didn't know exactly what had happened in New York that morning. The bell rang and I went out on the yard to pick up my new class from the area under the basketball hoop designated for Room 21. There were only four children waiting for me. I smiled and welcomed them with a "Good morning!" but my words fell flat. The Assistant Principal was walking around the perimeter of the yard and giving instructions to each class.
We were to team up with our room partner and take the children inside. One teacher would stay with them and the other was to come to the auditorium for a special meeting. Mrs. Blanca waved at me and as I got closer she said that she would take everyone inside so I could go first. I nodded and headed in the other direction.
It was dark and silent in the auditorium when I first went inside. Then I saw the television flicker and recognized Peter Jennings' voice as the person speaking. At that moment I think I went into shock and I felt in front of me for somewhere to sit down. Three days earlier I had been in Europe with my family and new granddaughter; now I was lost in thoughts of the future.
That evening my family in Finland called me at home. We won't ever see you again, they said. That isn't true, I answered defensively. In a year, everything will be back to the way it was. I'll be back next summer, I promised. Nothing can keep people from flying and traveling all over the world. It will be alright, you'll see. But I think I was trying to convince myself of this more than anyone else. It would be two long years before we would see each other again.
Editor's Note: When I left teaching and real estate to start my business online, I met a man at a conference who was also a real estate broker. He ended up finding the new home I would build and move into the following year in a city about thirty miles north of where I had been living, and we became friends. One day he told me that he had been a flight attendant with United Airlines for twenty years. He was supposed to be working on Flight 93 on September 11th, but a co-worker had asked him to switch days off because he needed to take care of something. Everyone on that flight perished, and the story of what occurred is one of great courage, strength, and sacrifice. My friend has never forgiven himself for what happened, even though he did nothing to feel this way.
~ ~ ~ ~ ~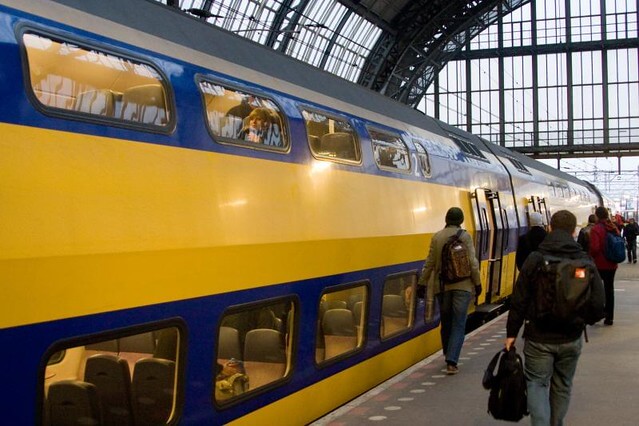 Travel changed completely, to the point that it was almost unrecognizable. Everything about commercial travel would be different forever. Just going the the airport became an ordeal. Only ticketed passengers could go all the way to the departure gates. So many rules and regulations and inconveniences, all designed to keep us safe. My water bottle had to be empty to keep it with me. The people searching our carry on items found nail clippers in my purse and I was pulled out of the line. They tossed them into a huge trash barrel and I was passed through to the next checkpoint. I slept all the way to Amsterdam and my ears didn't have a chance to pop on the descent. I hoped the pain would subside quickly, but by now my usually cheery attitude was waning.
Fast forward… It's 2003 now and I'm taking the train from Amsterdam Centraal near Schiphol Airport into the center of Rotterdam. I have friends living in Oude Western who have offered to show me around for the day. My flight on to Helsinki leaves first thing in the morning and this will be a welcome stop for me.
On the train, a young man begins speaking with me and asks if I'm an American. When I say yes, others turn around in their seats and want to talk to me as well. One woman asks me what it was like when it happened. She means 9-11, but they do not refer to it in the way we have come to describe the first terrorist attack on U.S. soil. What was it like? As I begin to talk, even more people come closer and soon I am surrounded by people of all ages. I remember telling them that I was scared, and that I thought the terrorist activity would begin happening every day.
I realize at some point that the train is making its way through parts of the city that were bombed regularly during World War II. Rotterdam was almost entirely flattened by the bombing during this period, and large swathes of the city had to be rebuilt from scratch. We had not experienced anything like that in States until September 11th, 2001 and hopefully will not ever again. But a life cannot be built on promises that might not be kept, so we take it one day at a time.
It wasn't until I was on this train into Amsterdam, two years after 9-11 occurred that I finally cried. On that day I realized that I'd stuffed my feelings down so deep and for so long the sobs were coming out like a volcano erupting after lying dormant for a century. Surrounded by people I did not know, some of whom could not understand the words I was saying, I found the peace and some closure I so desperately needed. I blathered on and they kept listening. The looks on their faces and the compassion in their eyes in those moments made me change how I thought about my life from that day forward. We are all connected, I believe, and strangers can bring us comfort when no one else can. I let go of my anger on that day, and it became the first day of the rest of my life.
Baby Melissa is now a tall, confident, and sincere young adult. As her 21st birthday approaches she looks forward and not into the rear view mirror. She still has Winnie the Pooh, who has a place of honor on the shelf above her desk. The students who'd been assigned to my class that school year of 2001-2002 are now approaching their 30th birthdays. I still know a few of them; yet we've never spoken of that day. My friends still live in Rotterdam and I see them every time I travel through Europe or they visit the States. Every time, we discuss what happened on September 11th and what has happened in the world since.
I'm Connie Ragen Green, grateful to have the freedoms I used to take for granted; thankful to first responders and so many others who have more courage than I knew was possible; and proud to be an American with a global conscience. I draw strength from thinking of a Hawaiian saying that comes to mind on most mornings. Every. Day. Better. And for those we lost on 9-11… Hindi ko kayo makakalimutan (Tagalog for I will never forget you).