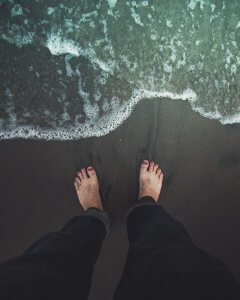 In the future, no one wears a watch. No one has a cell phone, at least not one that gets a signal. There are no motorized vehicles or shopping malls or internet or long, hot showers or tub baths. In the future there are very few people…
It was never on my bucket list to endure and survive a pandemic, but here we are, all of us on planet Earth marking time, making choices that once required only a fleeting thought, staying busy and hoping that one day the world will go back to the way it was, or at least to a reasonable facsimile of how is used to be, back at the end of December, 2019 when few of us paid any attention to COVID-19 when there was a small outbreak in Wuhan, China.
My first Rotary Club had planned an excursion to downtown Los Angeles for the fourth Saturday of the year, January  25th and I was excited to be included. I had transferred to the Santa Barbara Rotary in 2013 but remained in touch with the Rotarians in Santa Clarita. We were to meet at one of the three Metrolink stations and make the 70 minute trip down to Union Station. From there we would walk less than a half mile into Chinatown, where we had reservations at a popular restaurant. We would be able to see the Golden Dragon parade for Chinese New Year out the windows of our tables on the second floor, and after we finished eating we would join the crowds on the street below.
The day before, several people in our group cancelled, citing the coronavirus as the reason they did not want to go into Chinatown. Back then it was thought to be a flu that would predominantly affect Chinese people, and those who entered the United States after spending time in Wuhan, located in the province of Hubei.
This was the initial timeline:
On December 31st of 2019, China alerted WHO to several cases of unusual pneumonia in Wuhan, a port city of 11 million people in the central Hubei province. The virus was unknown.
Several of those infected worked at the city's Huanan Seafood Wholesale Market, which was shut down on January 1.
Fast forward to the third week of January…
The WHO said later on January 23 that the outbreak did not yet constitute a public emergency of international concern and there was "no evidence" of the virus spreading between humans outside of China.
By January 24, the death toll in China stood at 26, with the government reporting more than 830 infections.
The number of cities under lockdown in Hubei rose to 13, affecting 41 million people.
Shanghai Disneyland shut down and other cities announced the closure of entertainment venues. Beijing said a section of the Great Wall and other famous landmarks would also be closed.
On January 25, travel restrictions were imposed on a further five cities in Hubei, taking the overall number of people affected to 56 million.
Hong Kong meanwhile declared a virus emergency, cancelled Lunar New Year celebrations and restricted links to mainland China.
Between the day we went to Chinatown and gave almost no thought to any of this and the following day, everything changed.
On January 26, the death toll rose to 56, with almost 2,000 cases confirmed as travel restrictions were increased and Hong Kong closed its Disneyland and Ocean Park theme parks.
New cases were confirmed in the US, Taiwan, Thailand, Japan and South Korea.
Although we didn't realize it at the time, our day in Chinatown would mark the last time visitors would walk the streets and enjoy the sights, smells, and tastes of this neighborhood. It felt busy to all of us that day, but we later learned there were only about a quarter of the visitors they typically had for the Golden Dragon Parade and festival.
On February 11, the WHO announced that the new coronavirus would be called "COVID-19". And the following day, there were 175 people infected on board the Diamond Princess cruise ship, docked at Yokohama, the Japanese health ministry said. Two of my good friends were on that ship and became part of this story that continues to unfold.
As we rode the train back to Santa Clarita at the end of the day, I expressed my gratitude to each of the Rotarians and family members for having had this time with them. Many of us agreed to meet during the following month at various locations and in different ways. But the world changed that following week and the plans we made are now just unfulfilled memories on my wall calendar.
This could be more of what the future holds…
No more ballgames played out under floodlights. No more trains running under the surface of cities on the dazzling power of the electric third rail. No more cities. No more films, except rarely, except with a generator drowning out half the dialogue, and only then for the first little while until the fuel for the generators ran out, because automobile gas goes stale for two or three years. No more flight, no more airlines, no more requests to put your tray table in its upright and locked position. No more countries, all borders unmanned. No more Internet. No more social media, no more scrolling through the litanies of dreams and hopes and desires.
So begins Station Eleven, a novel by Emily St. John Mandel. It's the only book of its kind – science fiction, perhaps – I have read over the past two decades. Now I can't remember exactly why this book was so appealing to me. The book had been a "community read" from the Santa Barbara Public Library in December of 2017 and the author was scheduled to do a reading and a Q&A afterward on the afternoon of December 5th. There were wildfires on that day (The Thomas Fire) and it had to be postponed, so I did not get to meet her. I visualized the City officials ushering her out of her hotel and away from Santa Barbara where she would be safe.
The library had written and received a NEA (National Endowment for the Arts) Big Read Grant in order to give out two hundred copies of the book to people in the community and this was the write up they posted on their website:
Set 20 years after a devastating flu pandemic has destroyed civilization, Emily St. John Mandel's Station Eleven tells the story of a small band of actors and musicians moving between the settlements of the altered world—until they encounter a violent prophet who threatens the tiny band's existence. Mandel describes a world of hope, of people coping with nostalgia and loss, both in the present and the future: of the power of art and relationships to fulfill us, sustain us, and nurture us back to our best selves.
Station Eleven tells the story of a traveling Shakespearean theatre company in a post-apocalyptic North America. According to Mandel, it is also about friendship, memory, love, celebrity, our obsession with objects, oppressive dinner parties, comic books, and knife-throwing. With a narrative that moves backwards and forwards in time, from the years immediately before a pandemic flu decimates society to the vastly altered world that exists twenty years after, Station Eleven reveals the stories of interconnected individuals from the time before.
Something I will add is that this was the book that showed me how to tell a story that goes backwards and forwards in time, and this led to a discussion with an author friend who explained how I could use two outlines to tell the story of my cross country road trip during the summer of 2016 that led to my book, The Road Trip: An Entrepreneur's Journey of Self Discovery, published in January of 2020.
While I was reading this book I mostly forgot about the how and why of this post-apocalyptic world Mandel unfolds for us. But as soon as the pandemic reached the States in January of 2020 I wanted to reread it. And now I think of it as a documentary of sorts, though based in fiction. Right now I think of the life I am leading as falling somewhere between characters in The Twilight Zone and in Soylent Green. Perhaps I am being overly dramatic with this comparison. Perhaps not.
Now life is imitating art and we are in the early months of our own pandemic with the COVID-19 coronavirus. None of us knows what the future will bring. Sometimes my imagination gets carried away and I think about losing electricity and running water and gasoline. Then I calm myself down and think about the infrastructure set in place over the decades by the city, county, and state governments. Certainly they must have entertained the idea of something like this happening.
I will refrain from any political commentary here, but we have come to rely upon our elected and appointed officials to look out for us, and to anticipate any abrupt changes. Perhaps that was too much of a burden to place upon them, and we must find guidance from sources that will serve us well from day to day.
In the future we will all live "off the grid" and the reality of daily life will be more like the science fiction of yesterday.
I'm Connie Ragen Green, living on the grid for as long as possible and hopeful for the future of civilization as we have come to know and expect it to be. Change is in the air.