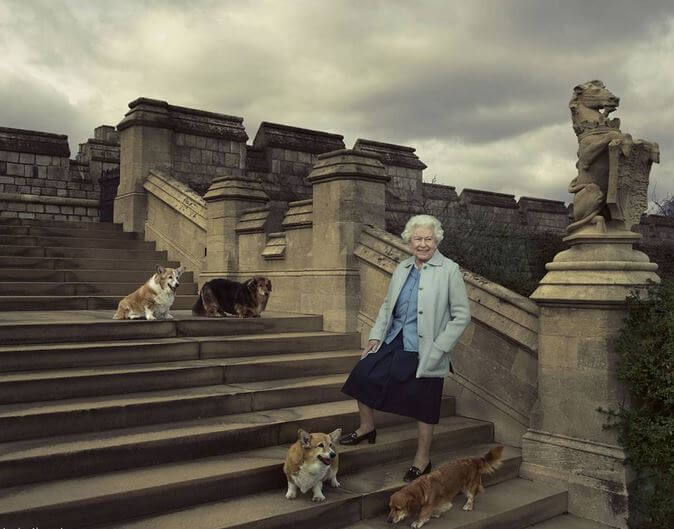 We never forget where we were when we heard the news that changes everything, turns the world upside down, and makes us take pause, if for no other reason than to figure out why the event in question touches us so deeply.
I was listening to a news program on the radio while getting ready to leave the house for the day, and a formal announcement was shared from Balmoral Castle in Scotland that Queen Elizabeth II was under medical supervision.
It was an odd announcement, in my thinking. She was ninety-six, had slowed down considerably over the past couple of years, even sitting out some of the festivities during her Platinum Jubilee, making her the only British Monarch to celebrate seventy years of service to people in the United Kingdom, the Realms and the Commonwealth.
She did appear on the balcony during the final day, so everything had to be alright. Or was it? It wasn't, and news of her passing on September 8th quickly spread around the world.
I am saddened by the death of Queen Elizabeth II. While I don't have a connection to the United Kingdom or the Commonwealth, London is my favorite city in the world and I have (still in present tense with this) the greatest respect and admiration for Her Majesty.
When I left the house that morning, the news was that doctors had Queen Elizabeth under medical supervision for her health. As I drove along the Pacific Ocean, through an area called Faria Beach, the news on the radio announced her passing. Less than twenty miles from home, everything had changed.
Did you know that HM the Queen was an entrepreneur? On November 20, 1992, Windsor Castle, the largest inhabited castle in Europe and one of her official residences, suffered extensive damage in a huge fire. Instead of asking the public to help cover over 42 million dollars in repairs, she agreed to open up parts of Buckingham Palace for the first time. This covered around 70% of the bill. She donated a few million of her own money to make up the balance, as well as agreeing to pay income taxes going forward, an unprecedented action.
A question I ask the people I mentor is "How would you raise a thousand dollars in your business, if you needed the money for something important within 24 hours? They typically tell me they would create a thousand dollar course and offer it for sale, or a $500 course and try to sell two of them. Of course, they seldom take action on that. Instead, we can all learn a lesson here on taking immediate action to solve a seemingly impossible problem.
While it will take me awhile to get used to saying King Charles III, out of respect to Her Majesty I will accept this decision. I trust her enough to know she has the best interest of others as her goal, and that includes an American from the States who never even had a glimpse of her during my many visits to her home.
In the photo above, Her Majesty is on the steps of the East Terrace at Windsor Castle with corgi Willow, dorgi Vulcan, corgi Holly, and dorgi Candy. The photo was taken by Annie Liebovitz in 2016.
The queen loved dogs and particularly Corgis. Her obsession with this cattle-herding breed dates back to 1933 when the then-7-year-old princess specifically requested a Pembroke Welsh corgi after meeting her friend's pet dog.
In fact, the royal loved her dogs so much that she created her own hybrid breed with her younger sister Princess Margaret in the 1970s called the "dorgi" — a cross between a dachshund and a corgi.
The queen reportedly fed the dogs herself on occasion, with those in the know saying she sometimes lovingly drizzled gravy over their food for them.
In the photo below, she is sharing a special moment with Paddington Bear. It turns out they both love jam, and each keeps a sandwich close by in case of emergency.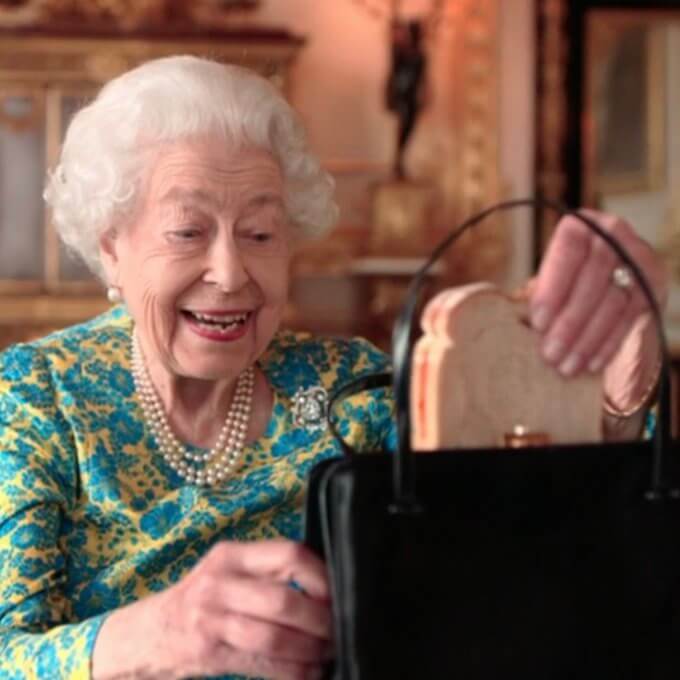 King Charles III (formerly Prince Charles) described his mother's life as "a life well-lived and a promise with destiny kept" and that phrase sticks in my mind as I write about her.
But… not everyone appreciates or sees the value in this system of leadership and control, over not one but dozens of countries throughout the world. In fact, during the seventy years Queen Elisabeth II ruled, more than twenty countries gained their independence. Here is an article on that – Not everyone mourns the queen. For many, she can't be separated from colonial rule…
When she took the throne in 1952, more than a quarter of the world's population was under British imperial power. That was more than 700 million people — including in parts of Africa, Asia, the Middle East and the Pacific islands.

While her 70-year reign saw the British Empire become the Commonwealth of Nations — and the decline of the United Kingdom's global influence — the scars of colonialism linger. Many note the enslavement, violence and theft that defined imperial rule, and they find it difficult to separate the individual from the institution and its history.

Moses Ochonu, a professor of African studies at Vanderbilt University, told NPR the queen's death brought attention to "unfinished colonial business."
Even her own grandson and his wife, Prince Harry and Megan, chose to end their roles as "working royals" and now live not far from me in the Santa Barbara area.
We must look at everything from as many perspectives as possible, in order to make sense of our world and to become active as a citizen of the world, I believe.
One of my friends is a lady named Barbara, who helped introduce me to volunteering in my community. She spent the first seven years of her life living outside the grounds of Buckingham Palace.
She was born in 1936. In 1940, as London was bombed daily by the German Blitz during World War II, as the sirens sounded, she and her family would rush to the underground railroad for safety.
Barbara's father was King Edward VIII's personal valet. Edward VIII was the British King, until he abdicated the throne on December 11, 1936, in order to marry an American socialite, Wallis Simpson. It became the scandal of scandals. Their intention to marry and Wallis's status as a divorcee caused an international crisis that led to Edward's abdication. Elizabeth, who was 14, suddenly became next in line for the throne when her father, King George VI replaced her uncle, King Edward VIII.
"We lived by Buckingham Palace. Dad would walk across to the palace early in the morning every day." she shared.
Her father never shared any details about his job. "He was sworn to secrecy and never talked about it", she told me. One time, he took her to Elizabeth's drawing room. Elizabeth was in her early teens. Barbara added, "She smiled at me and said "hello" in a very proper British accent."
"Once, we were hiding in the underground railway, near the palace and an entire section of our house was destroyed," reflected Barbara. "We had to move to a home across the street."
Years later, Barbara's father lost his job as Edward's personal valet and joined the British navy. He moved his family to Welling in the County of Kent so they would be safer.
Barbara remembers she would watch as bombs and rockets whizzed over her house.
"When we first saw and heard them, we saw fire coming out of the end and they had a big buzzing sound. They were enormous. They were called Buzz Bombs. When the fire and noise stopped that's when the bomb started to decline to hit a target. We would step out in the street and sing, 'Shoot those Buzz Bombs down boys, shoot those Buzz Bombs down. Hitler's secret weapon, shoot those Buzz Bombs down. First you hear the engine, then you hear it stop. Then you see it gliding. Then you hear it pop."
Her dad's ship was torpedoed and hauled into Charleston Harbor, South Carolina for repairs. Members of the local Masonic lodge visited the ship and befriended her father, who was also a Mason. Her dad liked South Carolina, so when the war ended, he obtained a sponsorship through the Masonic Lodge. Barbara and her family moved to South Carolina in 1947.
Update: I had forgotten that
Queen Elizabeth II broke a protocol in order to honor the victims of 9/11. On Sept. 13, 2001, when the Queen ordered the Coldstream Guards' band to perform "The Star Spangled Banner" outside London's Buckingham Palace during the Changing of the Guard ceremony.
The Queen ordered the Royal Guard to break centuries-old tradition dating back to 1660 and play the US national anthem during the Changing of the Guard. Attempting to provide some comfort to Americans stranded in London.
Then, a day later she joined a crowd of thousands in singing "The Star-Spangled Banner" during a memorial service at St. Paul's Cathedral in London for the victims on Sept. 14, 2001.
Richard Kay, a columnist for the Daily Mail, wrote at the time about how unusual this was for a monarch, saying, "The Queen does not 'sing' national anthems. Her mouth never opens when they are played. It was the ultimate sign of unity, friendship, and support for America." It is believed to be the first time a British monarch sang the anthem in public.
The Royal Family's Tribute to Victims of 9/11…
Two decades ago, the US national anthem was heard at Buckingham Palace.
Twenty years later, on September 11th, 2021, Windsor Castle rang out with the same tune.
To honor the thousands killed in the deadliest act of terror in history, the Guard held a special ceremony to commemorate the September 11 attacks.
Queen Elizabeth said…
"Nothing that can be said can begin to take away the anguish and the pain of these moments. Grief is the price we pay for love."
I love finding connections with people from all over the world. Perhaps this will be the start of new stories and memories to share about the experiences my friends have had with Queen Elizabeth.
I'm Connie Ragen Green, exploring the world and its people one moment in time, and living a "lifestyle by design" as I keep my own promise with destiny as it continues to unfold.