Reversal of Fortune… Taking Small Steps Each Day Makes All the Difference
I learned early on that having some optimal info at just the right time can turn everything around for us. It can lead to great things, including a "reversal of fortune." This is my experience with this phenomenon, and I'm sharing it in hopes that this will make a difference in your life experience as well.
First, I'll define the term "reversal of fortune" as a situation where someone has turned around their life in amazing ways, hopefully from living a life of fear and lack to one in which they exude confidence and have an abundance of everything from joy and happiness to wealth and material objects and service to others.
Reversal of fortune as a concept is also used in economics to explain global income distribution – here's a paper about it, published by MIT – and also as a literary term. Storytellers use the literary device of peripeteia to change the course of a narrative and reverse the fortunes of a character.
Peripeteia is a sudden change in a story which results in a negative reversal of circumstances. The literary peripeteia is also known as the turning point, the place in which the tragic protagonist's fortune changes from good to bad. This literary device is meant to surprise the audience, but is also meant to follow as a result of a character's previous actions or mistakes. What I m sharing with you here is the exact opposite of peripeteia; your reversal will be with the most positive of circumstances and can change your life forever!
My personal experience with this occurred quite by accident. I'll share the story of my reversal of fortune with you…
One of the most difficult situations while I was teaching occurred when I needed an extra few hundred dollars for an unexpected expense. My salary was fixed, so I had to dip into savings – of which there was precious little – in order to cover the cost of whatever it was that came up.
Yes, I also had my part-time real estate work, but taking on another listing or an appraisal required more of an added time commitment that I couldn't easily fit in to my schedule. I could have asked or paid someone to help me find more time, but back then I definitely didn't understand the concept of outsourcing.
During the year before I left teaching and real estate to come online full time, I began to add blogging and affiliate marketing to what I was setting up online. I spent four hours a week – two on Wednesday evenings and two more on Saturday mornings – and trickles of passive income began to flow in. My "reversal of fortune" led to a new life! I eventually wrote a book, Living The Internet Lifestyle: Quit Your Job, Become an Entrepreneur, and Live Your Ideal Life where I share how anyone can do the same thing I did.
I discovered that I could change my life by sharing the stories of where I had come from, where I was presently, and where I intended on going. In fact, I'll share yet another story with you right now…
I spent time recently with my best and longest friend, Kathy. We had a delicious brunch, did some shopping, and then went to her house so she could show me a few things. During this time we each shared our "origin story" to the other in order to solidify our friendship. Mine went something like this: I first met Kathy in a real estate class. She helped me to become an appraiser, and two months later I helped her to come aboard with a company that had more work than they could handle. I was still teaching and could not possibly take all of the assignments until I had my next school break.
The money she earned that year helped her and her husband buy a new home they never thought they could afford, and the help she gave me on the weekends allowed me to get certified by the State of California to take work as a "review" appraiser. By helping each other, each of us was able to level up and achieve more of our goals.
What Steps Are You Taking Each Day to Initiate Your Own Reversal of Fortune?
I had a dream of becoming a writer from a young age. This began in elementary school, when a boy named Danny asked me to help him write some stories to share with our class. I was overjoyed, yet I hesitated and then stalled when it came to actually doing some writing. He waited a few days before kindly telling me that he would be moving forward on his own with the writing, but that I could come aboard at any time in the future.
That invitation vanished over time, and became my modus operandi for how I approached and reacted to situations in my life. It wasn't until I was in college at UCLA that I became aware of how much I was holding myself back with my limiting thoughts, beliefs, and actions.
Energy and Its Vibrations
I spend time with people in many settings, both virtually and in person. What's noticeable right away is the level of energy they bring with them. For example, I'm in a Mastermind with people whose vibration is off the charts. I am energized just by watching them and then inspired when they speak about what they're doing and working on. At the recent Retreat in Savannah I was a part of, the women were high energy and it made our week together fun, filled with joy and laughter, and productive.
Then there are the people and groups who have low energy. They lack confidence, seldom take action that will lead to business or personal growth, and always seem to have a sad story to share. Low energy people attract others who are similar, so I'm recommending that you become a high energy person yourself, and also align yourself with others who make you feel alive! Life is too short to miss out on everything that awaits up when we are open and ready to receiving what is rightfully ours.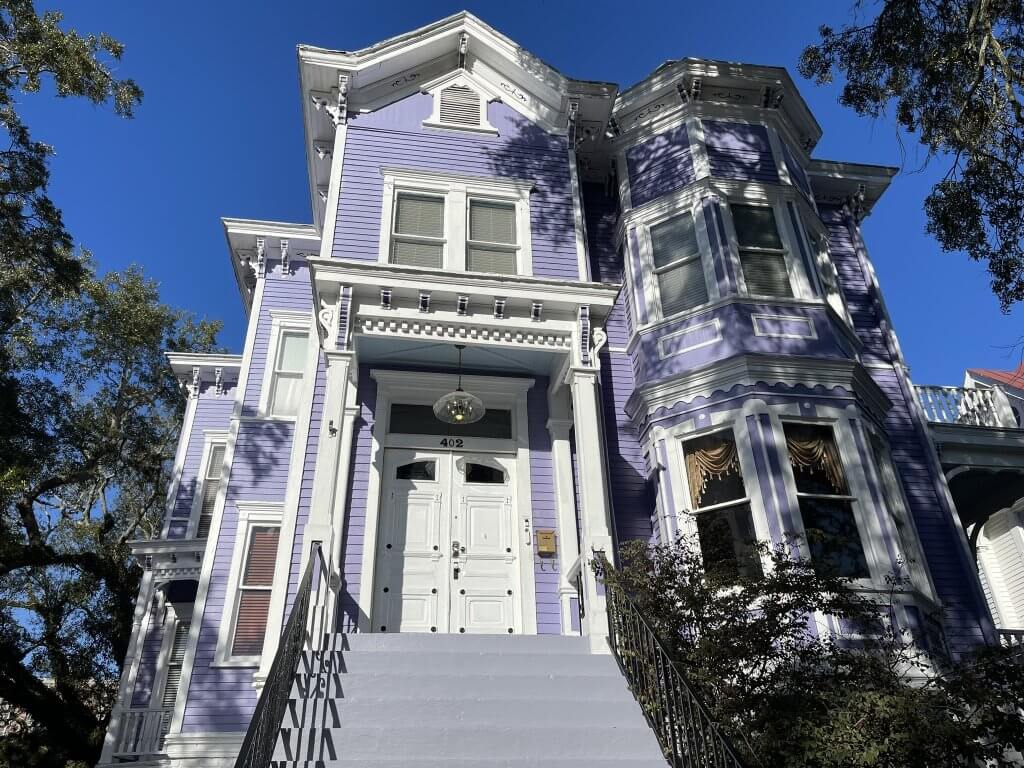 A Recent "Reversal of Fortune" Experience
In regards to the business Retreat in Savannah I mentioned above, I'll share a story with you. We had rented an AirBnB for our stay. It was a historic home built in 1895 and so large we each had our own floor/wing during our time together. One woman enjoys reading the real estate listings and discovered that another historic house just across the alleyway from us was for sale. When she mentioned that she'd love to see it on the inside, I took that as my cue to spring into action.
I reminded her and the others that I continue to hold a real estate Broker's license in California. It would only take a phone call to the listing broker to arrange a private showing of the property. Everyone was excited at this opportunity and I arranged it for the following day. It would be raining all that day and would give us something to do close to where we were staying.
Our time in this house was awesome and amazing! It was almost eight thousand square feet on four levels, with features and amenities too vast to share in detail here. Suffice it to say that this was a property with qualities that surpassed anything any of us had ever seen up close and in person before.
After almost two hours of being shown every detail, asking and having the listing broker answer all of our questions, and then exploring the entire property on our own, we thanked the broker and the house manager who had joined her to help provide additional information and returned to the home where we were staying that week.
This is when the fear set in. What had started out as a simple tour of a home for sale had transitioned into the possibility of one or two of them purchasing it and setting it up as a place to do Retreats, Masterminds, and other types of conferences. With an asking price of more than three and a half million dollars, both the possibilities and thoughts around the process of making an offer than could not only be accepted but also be funded with a loan became overwhelming.
I jumped into action to do what I believe I do best: I'm an expert in the area of Mindset and Prosperity and love helping people around me to move to the next level with their life experience. My goal was to guide all of the women through the many steps of exploring this Bed 'n Breakfast as an opportunity that could indeed be theirs, regardless of the cost, location, or any other details.
Over the next three days I stayed in close contact with the broker. Now that my colleagues were showing greater interest in purchasing the property, more questions arose. We needed more details on the historic details that were associated with the house, the types of zoning and permits that would be possible (someone suggested adding a bookstore on the ground floor level), and the seller's motivation and possible carryback of paper for some of the loan amount.
Having been a real estate broker since 1983 – yes, I was very young at that time – and living in California where we are numbed to sticker shock when it comes to real estate prices, I had been in similar situations to this one dozens of times. Even though I believed they were not serious about making the purchase, I knew that walking them through the steps to get to that place would have greater value in the long term.
It turned out that two in our group had the capability of putting together  a sizeable down payment and arranging for a loan to cover the balance. As our discussions unfolded and evolved that week, so much came to light that strengthened our friendships and business connections. Phone calls were made, notes updated, emails sent, and further research was done. When you go from looking at a home to actually considering purchasing it, everything changes.
All of us went through a full range of emotions with this situation, and each person emerged feeling more powerful, confident, and capable than ever before. In the end, the property was under contract to another potential buyer, and we were satisfied with the experience ending in this way.
Taking small steps each day will make a difference. If you're ready for your own reversal of fortune, be willing to engage in action habits that challenge you to move closer to your best self. My Challenge can help you with this.
I'm Connie Ragen Green, ready and able to help you have a mindset and prosperity shift in the direction of your dreams and goals. Let's connect further and discover exactly what could be possible in the near future.