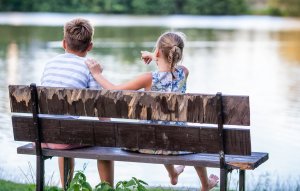 Part of my new life, after my reinvention in 2006 when I resigned from my job as a classroom teacher and gave away my real estate clients to people who could better serve them, includes spending time with people I may have never met in the past. Even though I'm an introvert I have found these experiences to be ones I would not trade for the world.
One family I met was through my church. We first became friends in 2012 when their youngest children were nine and eleven. There is also an adult daughter and it was she who first brought us all together. She was living in Santa Barbara, one of the two communities I call home and needed some guidance with a job and living situation. We met at the family's home in my other city, Santa Clarita to get to know each other and to discuss some options for how I could be of help.
This story is about the middle child, Kyle. He was just a little fellow when we first met. Soft spoken and shy, he was always polite to me. Most of the time he and his younger sister sat quietly while I was speaking with his parents and older sister at their house. When there would be a lull in the conversation I would ask one of them a question about school or friends and they would answer with one or two words unless I asked them to elaborate.
Years passed. Kyle got taller, as children tend to do. I had more interaction with his sister as she became more talkative with me over the years. I had less contact with his parents and older sister but we were all still friends.
One day several months ago I passed Kyle in the hallway at church. He didn't look up though I'm sure he saw me. He didn't say hello, so I did. No answer. I chalked it up to him now being a teenager. It didn't hurt my feelings and I didn't give it a second thought. He was even taller now, as happens with young people you don't see every day. I saw his parents later that day while we were all still at church. His mother told me he was seventeen now and going through some things. She didn't elaborate and I didn't pry. Again, I didn't give any of this any thought after that day.
Fast forward to this past Sunday. I'm at church and sit a row behind Kyle's father, a few seats over. He's holding a stack of postcards and as a man passes in front of him he hands him one. I lean in closer.
"May I have one of those?" I ask. He shifts slightly in his seat as he turns and hands me one without saying anything.
The headline on the card says "Kyle's Eagle Scout Project" and the the subtitle is "The project involves installing 1000 feet of rattlesnake fencing and some foliage clearing." In my world I see everything as marketing and this is clearly sales copy. And it definitely grabs my attention, as all good copy must do.
The bullet points list the name of the park, the date and time, what to bring, the exact address, and a phone number to call with questions. It ends with "Hope You Can Make It" which is the appropriate call to action. This could have been written by a professional copywriter.
In very small print at the bottom of the postcard it says…
"Monetary donations will be very helpful as well. All donations will go towards the materials for the project or for the park. Find me at GoFundMe.com by searching for my name.
The following morning I go to the site and find Kyle's page. My heart sinks. He needs fourteen hundred dollars to do this project and only a few people, including his father have made a donation so far. The headline reads…
Boy Scout Project – Help the Animals in Hart Park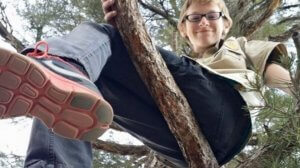 Look at that sweet face. That's the Kyle I remember from the first years I knew him. He was about fourteen in this photo, taken by his father at a Boy Scout camp one summer. And you can see in the photo the little fellow is now turning into a young man with long legs and big feet. Having fun with the other boys and fathers and scout leaders. Not a care in the world, or at least not too many, as it should be.
Everything has changed over the past two years. The young man who passed me in the hallway without making eye contact or speaking is troubled and suffers with bouts of depression. He shares this in his own words (I'm paraphrasing here) on his GoFundMe page:
This is an exciting project for me because I did not think that I would be able to complete my Eagle project! I was just about there when I began having health issues due to an undisclosed medical condition and resulting depression. The past two years have been dark, but Boy Scouts of America approved an extension for me to complete this even though I aged out (he turned eighteen this summer). Please consider a small donation to help the animals…
Without giving this another thought I spring into action to help. This requires marketing skills and fundraising ideas and quick decision making and those are my strengths and super powers!
My plan is to reach out to my subscriber list and tell them the story. Storytelling is the way to connect people quickly with the product or cause you wish to draw attention to. I ask the people in my community to make a five dollar donation. This is because I want Kyle to see many names of people he does not know who are willing to be supportive of him and his project.
The first person donates a few minutes later. Then there are more, some giving a ten dollar donation. I finally can't stand it any longer and call Kyle's mother.
"Have you refreshed the page?"
"No, we haven't even looked today."
"Please look now…and ask Kyle to look as well."
I keep those in my community in the loop with detailed updates. Some contact me to share their own struggles with depression. Others tell me about their own experience as an Eagle Scout, or of that with their children. Everyone I talk to about this, whether in person, by phone, or on the internet loves that Kyle has chosen to help animals in the barnyard area at the park to be safe from rattlesnake bites.
Over the next 72 hours Kyle meets his goal. His mother tells me they are shocked by and so grateful for the support of so many strangers. I tell her that I asked people to donate a small amount so Kyle could see lots and lots of names of people who care about him and resonate with his situation and his project. She is thankful and appreciative of my help. I still haven't spoken to him but will see him on Saturday morning when I join him and many others in our community to help him to complete his project.
The sun is just coming up over the mountains when I arrive at Hart Park. This is a park filled with history and I am here often for community events and non-profits I am a part of. It was named for silent movie star and film producer and director William S. Hart, who made his home at the top of the mountain for many years. The mansion is now available to tour and the view is of the entire Santa Clarita Valley. There are bison grazing on the hillsides. They are the direct descendants of the bison Walt Disney gifted to William S. Hart decades ago.
Kyle is a great leader and gets everyone moving on the project. He stands tall, directing everyone in a kind, yet firm way. Boys and girls, men and women, people from age three to eighty are all eager to do whatever is necessary to complete this project today. The fawn who will be the first recipient of this gift of rattlesnake fencing makes her way down to greet us. After the first section of fencing is installed the deer delicately licks each area as if to give it her seal of approval.
Two hours later Kyle and I finally get a moment to talk. He is thankful, still shocked, and so happy I helped him raise the money he needed. I tell him this skill is a gift from God that brings me great joy. He shares that he has enough money to create two signs the park's director requested. One will explain the difference between alpacas and llamas; the other is for the tortoises and turtles.
He tells me more about the depression he has experienced over the past couple of years. He says that he loves spending time with people but found himself unable to do so at times. He is determined to beat this and to move forward with his life and his plans for the future. I believe in him.
As he leans on the large shovel he is holding a smile crosses his face. I don't let him see the tears of joy welling up in my eyes and making their way down my cheeks. I am filled with the Spirit and know I will remember this day forever. Today is a good day for Kyle, and he is taller than anyone thought he could be.
I'm Connie Ragen Green, bestselling author, international speaker, and online marketing strategist. Oh, and I also care about people, their stories, and finding ways to help them make their dreams and goals come true.