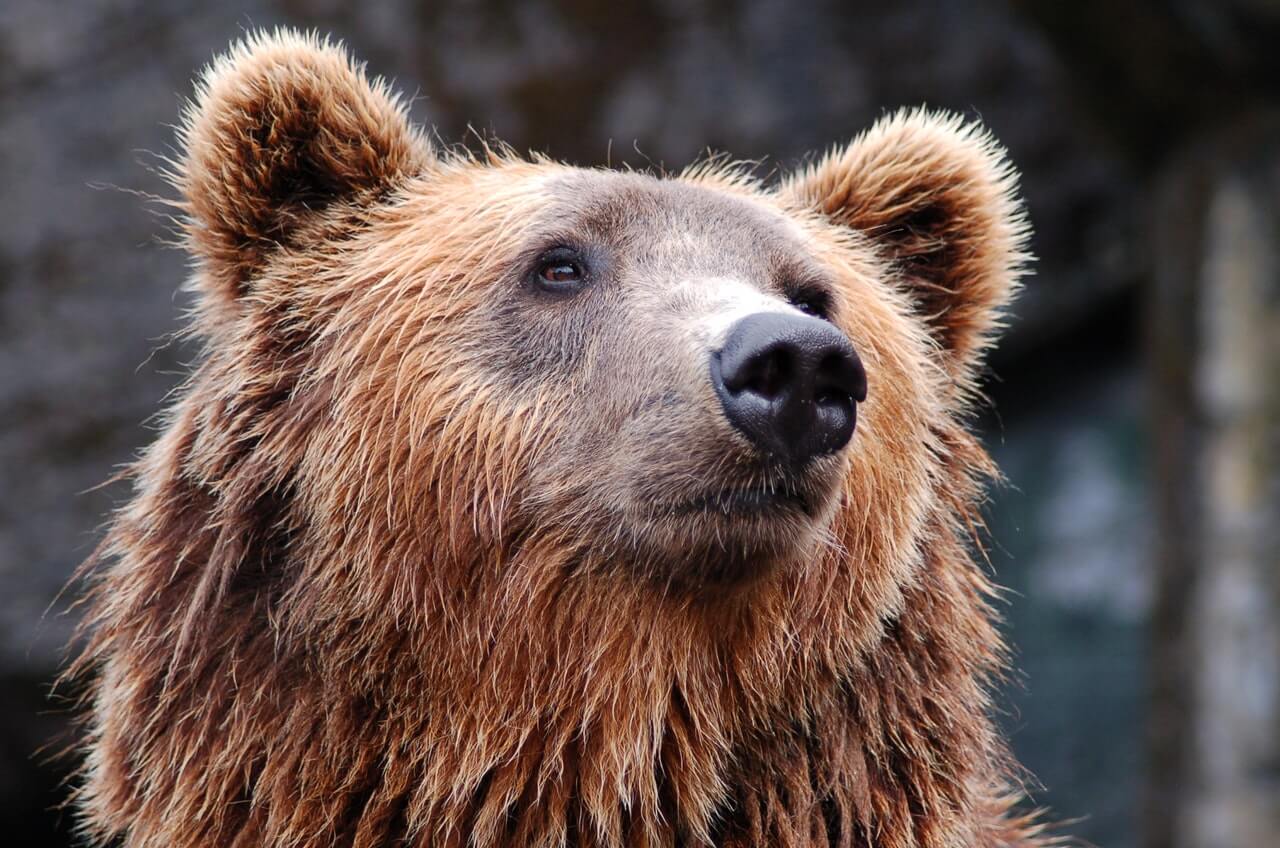 The Hungry Brown Bear and the Birthday Boy

Having children in your life allows you to relive your childhood while living vicariously through theirs. Throughout my lifetime I have surrounded myself with children of all ages. It began when my kids were small, progressed to activities with teens and older children, then circled around to elementary school age kids when I became a classroom teacher.
Most recently, I have been a part of the life experience of a boy named Calvin. He just completed Kindergarten and did not know that he was in school on Zoom because of the pandemic. I am so excited for him to return to school in person for first grade in the fall of 2021. But today I am fortunate enough to be celebrating a special day with him and his family – his 6th birthday!
I could not think of a proper gift for this special child. I give him books on a regular basis, so another one would not be so special. Instead, I have written a short story for him that I am sharing here with you. I'm also translating this story into Spanish, and I will share the details of how and why I am doing this at another time. For now, read the story of The Hungry Brown Bear and the Birthday Boy (in Spanish, the title is El Oso Pardo Hambriento y El Cumpleañero) and then let me know what you think…
One day a small, hungry brown bear awoke from his nap and discovered that he was all alone in the den he shared with his mother and father. He stretched and yawned and paced back and forth, thinking about what to do next.
The brown bear remembered that his mother and father had told him they were going fishing and he decided to go and look for them. He walked quickly through the forest, stopping every few minutes to look for his parents, to listen for other creatures in the forest, and to smell the fruit, berries, and flowers in the woods.
After walking for a few minutes, he thought he might be lost in the woods. But he listened intently for the sounds of the river, sniffed the air to smell anything that would take him closer to his destination, and looked up, down, and all around for clues as to where he was.
Soon he arrived at the river. There were two other mother bears and a father bear frolicking in the river, but his mother and father were nowhere to be found. "Where could they be?" he thought out loud. The brown bear kept walking in hopes of finding his parents before the sun went down. He was a young brown bear, but he knew that looking for them after dark would not be a good idea. It would be too difficult to see where he was going, and also there would be creatures who only come out at night that he wasn't familiar with in his life so far.
Along the way, the brown bear became even hungrier than he had been when he first got lost in the woods. That seemed so long ago. He wondered if he would ever have food again. But quickly he realized that was a silly thought to have. He would find his mother and father and they would make sure he had delicious food to eat.
Then, he had what he thought to be an awesome idea! What if his mother and father had decided to move on after coming to the river? What if they had gone over the big hill to find fish and berries in the Golden Lake? He could head over there now!
The Golden Lake was so huge, it made the brown bear sad to think about finding his way all by himself. But the brown bear was strong and brave and determined as well as hungry, so he set out on his journey and remained positive and hopeful.
Now he heard something rustling in the bushes near the path he was walking on. He stood still and listened intently.
"Buzz. buzz. buzz."
"It's a bee! You're a bee! Where are you, bee? Show yourself and tell me your name!" the brown bear demanded.
But the bee buzzed even louder and flew away without saying a word to the hungry brown bear. This made him feel lonely, and very hungry, and he was determined to walk even faster towards the lake.
Just as he caught a glimpse of the late morning sun shining on the water in the distance, he saw something move in the brush. It slithered and squirmed and the brown bear had to keep turning this way and that to follow the creature so he wouldn't lose sight of it.
"Who goes there?" he asked. "Show yourself and tell me your name, please," he pleaded.
But the creature disappeared behind some rocks without uttering a single word or making any sounds.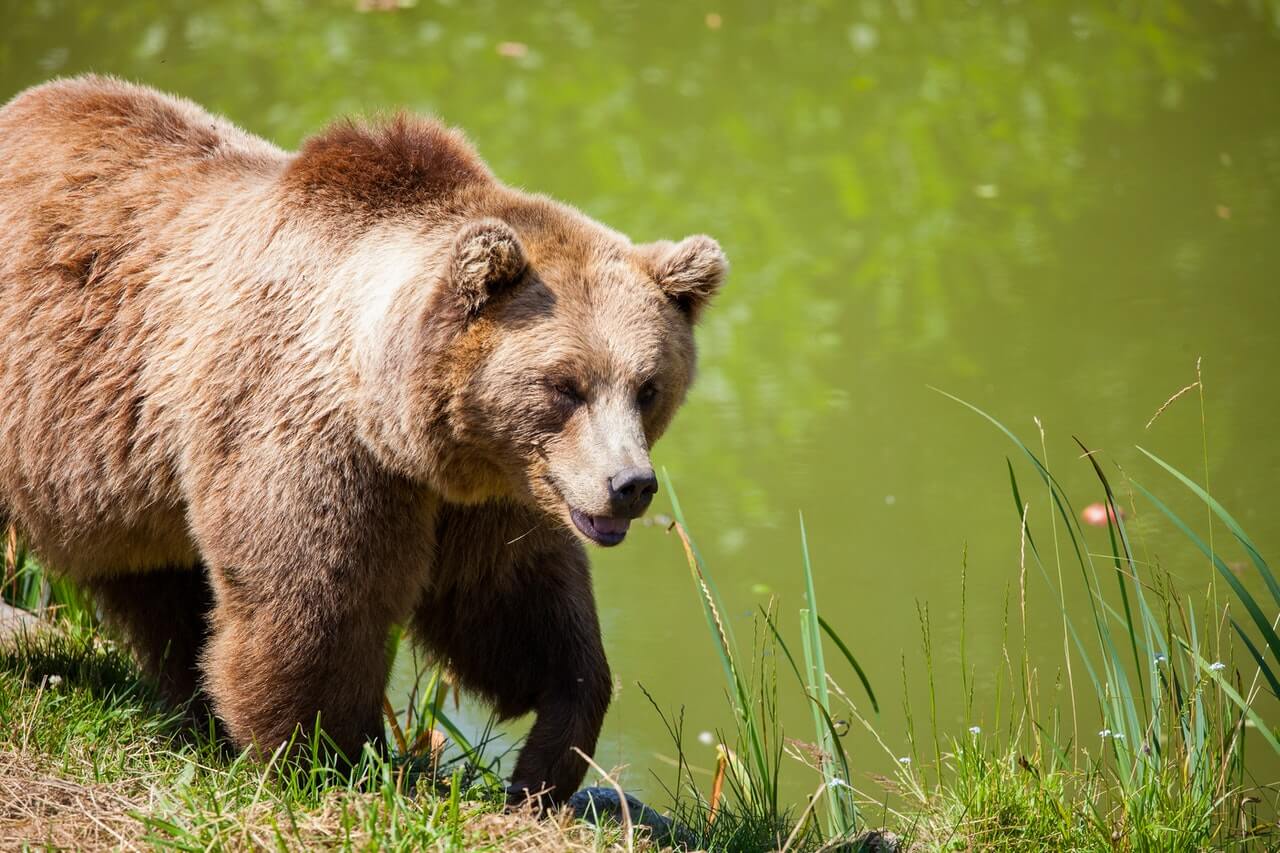 The brown bear shrugged his shoulders and kept on the path towards the lake. He was beginning to feel hopeful again that he would find his mother and father down by the lake. He would be so happy to see them again. He would hug his mother and she would gently brush his hair away from his face with her huge paw. Then his father would scoop him up in a tight embrace and squeeze him until Kevin begged to be put down again.
Feeling excited to continue on his journey, he took his time and picked some flowers along the way. They were delicious, edible flowers his parents had taught him about when he was just a small bear cub. Now he felt calm with the memories of those earlier times. When he was full and no longer feeling the hunger pangs he had experienced earlier, the brown bear once again headed for the lake.
Finally, he had arrived at Golden Lake! The lake was so beautiful. There were tall trees with huge green leaves lining the shoreline. It smelled good – sweet and fresh – and he couldn't wait to take a long drink of water from the lake. He dipped his hands into the water and brought them up with his fingers clasped tightly together. Even though the water was spilling out through his fingers and onto the ground, the brown bear was able to enjoy a long, thirsty drink.
The sun was shining down on him and he decided to reach into the lake for one last drink before continuing on his quest to find his mother and father. But this time he pulled up more than just water – he had a slender gray fish in his paws!
The fish wiggled and squirmed, as if to get away from the brown bear. He had never seen a fish before. It was slippery in his hands and he gripped it more firmly to hold on tight. Finally, the fish stopped struggling and lay flat in the brown bear's outstretched paws.
"You really should put me back in the water now, Kevin," the fish said calmly. She was staring directly into the brown bear's eyes.
The brown bear was in disbelief. Only his mother and father called him Kevin. How would this water creature know his given name?
"Do you know my mother? Do you know my father? He asked. They are lost and I'm looking for them before the sun goes down. They left early this morning to catch some fish for us to eat, but they never came home."
"Place me gently back in the water and I will tell you what I know," she said.
The brown bear did as he was instructed to do. He softened his grip on the fish and lowered his hands down to the water's edge. When he felt it was safe, he let her go. He closed his eyes, hoping she would still be there when he opened them again.
"Are you sleeping, Kevin?" she asked him after a moment.
"No, I'm awake. I just thought you might run away, or swim away, I guess. Are you going to leave like the others creature I met along the way did?"
"Kevin, you silly brown bear. Why would I want to leave? You and I have just met and I want to know all about you. We can be friends."
Kevin the brown bear smiled. "Yes, friends," he said. "Do you know my mother and father? How do you know my name? And what's your name?"
"My name is Jenny. Your parents and I have known each other since you were a baby bear cub."
Kevin stretched out in front of the lake. He was gently leaning on one of the tall trees with the big green leaves. They were so thick and lush they made a comfortable pillow on which he could rest his head.
He listened as Jenny told the story of how she had first met his mother. It had been a crisp and sunny summer day, much like today, and she was looking for some food to take back to her new baby.
"That was me!" Kevin exclaimed. "I was her new baby bear cub!"
"Yes, that was you, Kevin." Jenny answered. "She was trying to catch some fish when I swam by. Then we became friends and she decided catching fish wasn't for her after all."
"Then how did she get food for me?"
"I taught your mother how to dig for roots and to find fresh berries. She discovered they were so much more delicious than fish, and that way everyone could be friends."
"When did you meet my father? Kevin asked.
Jenny answered, "One day your mother came to see me at Golden Lake. She wanted to invite me to a birthday party in her den."
"A birthday party!" Kevin exclaimed. "Who was having a birthday?"
"Silly brown bear, it was for you. You were celebrating your first birthday and your parents invited every creature they knew to the birthday party. There were guests from the river, the lake, the forest, and the woods. Big and small, short and tall, creatures who walked and flew, and swam were all there."
Kevin asked, "What about creatures who slither? Did they invite snakes and lizards and snails and other such creatures to my birthday party?" He was thinking about the creature who had slithered away from him earlier.
"Yes," replied Jenny. "All creatures great and small were invited. Do you want to know why?"
Not waiting for Kevin the brown bear to answer her, she continued.
"We must all be friends and look out for one another. No matter where we are from or what we believe, we are all living on planet Earth together. We are stronger when we are united as friends and help each other. Do you understand what I'm saying, Kevin?"
Kevin nodded. He did understand. Having friends made him happy. And it made perfect sense that friends would always help one another. Thinking about this reminded him of the purpose for being at the lake that day.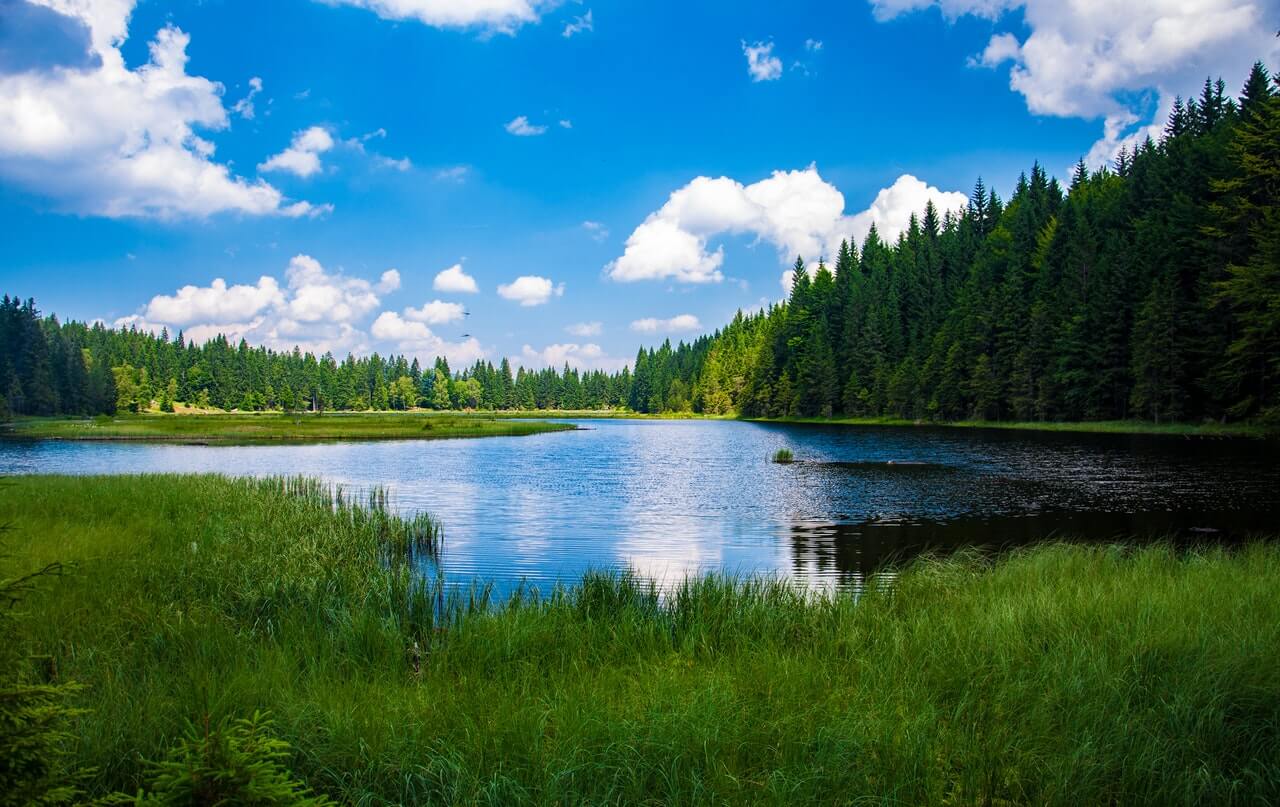 "I must keep looking for my mother and father, Jenny. Will you come with me? You and I could find them together."
Jenny the fish thought about this for a moment, swimming around in circles and blowing air bubbles to the surface of the lake. Kevin the brown bear thought this was funny and was reminded of how his mother paced back and forth in their den when she was worrying about something important. Then he remembered that he had been pacing this very morning while he was deciding how he would find his parents.
"Yes, of course I will help you find your family, Kevin. We'll go together and find them more quickly than if we were alone and looking for them."
Kevin wrinkled his nose and asked, "But how will we look for my mother and father together? You are a creature who swims in the water and I am a creature who walks on the land."
"Not to worry," said Jenny. I will lie on my side and you will carefully pick me up and place me in your mouth. At the end of every minute, you will dip your head in the water and I will catch my breath. Can you do that?"
Yes, the brown bear could do this. He jumped up and down in excitement before doing as Jenny had asked and picking her up gently in his mouth.
They traveled half way around the lake when Jenny suddenly wiggled her tail to get Kevin's attention. He promptly dipped his head in the water and Jenny swam in a circle before coming up for air.
"The turtles are telling me that your parents are in the strawberry patch behind the water tower. Pick me up again and turn left at that tallest pine tree at the edge of the forest."
Once again, Kevin did as Jenny asked and they quickly made their way along the shoreline and into the woods. In the distance there was laughing and singing and it became louder as they approached.
A very large bear rolled down the hill and met them on the stone-covered path.
"Kevin, I thought you'd never arrive. Jenny, thank you so much for coming with him." It was Kevin's father talking. Then his mother appeared, smiling from ear to ear.
"Happy birthday, Kevin. You are six years old today!" she said excitedly. "All of your old friends are here, and some new ones as well. It's time to celebrate!"
And celebrate they did. There were creatures great and small, short and tall, on foot and with wings, swimming and flying and buzzing and singing. Each guest had a place to play and food to eat that was specific to their species. Kevin observed the rabbits getting to know the fish in their natural habitat and the birds learning more about the snails and spiders in their familiar surroundings.
It was a grand birthday party and Kevin could not stop smiling. He had learned much that day. He had many new, interesting friends.  And he ate so much birthday cake and berries that Kevin thought he would never be hungry again.
I'm Connie Ragen Green, searching high and low for new friends while reconnecting with friends from long ago. I hope my story made you think about some things I believe are important to all of us as we navigate the world and its future in the present moment.