The Kindergartner Down the Road and My Efforts at World Peace
I knocked on the door and got no response. Then I rang the bell and the family appeared, smiling and seeming happy to see me.
I smiled, and then hung my head as the emotions welled up inside of me. Then I spoke the words that felt right, in that moment.
"I'm so very sorry. About what happened in Atlanta, I am sorry."
The father whispered something and the mother answered him in Chinese. The sister remained silent.
"Ah, yes," he said and I raised up to meet his gaze.
In that moment a thousand thoughts and words were silently exchanged between us, and I knew they would be alright.
It might have been his tiny-toothed grin and high energy level, or perhaps it was growing weary of dealing with the pandemic, or maybe it was because I have not been around young children for a year. But whatever the reason, the little boy down the street and on the other side of the road made my heart smile. I walked the dogs each afternoon around 4 and he was almost always there. His older sister, initially mistaken by me to be his mother would nod her silent approval of our interactions. At first, it was just a wave and a "Hi" coming out of my single-layered mask. A week or so later we graduated to full sentences and one afternoon he asked about the dog I was walking on that day.
"What's his name?" He pointed, to make sure I knew he didn't mean someone else or another dog.
"This is Teddy."
"I love him!" He jumped up on the "I love" and landed squarely on his sneakers with the "him!" and that made me laugh. I so wished I could cross the street and allow boy and dog to meet, but that wouldn't be safe or appreciated right now.
The next day our conversation deepened, and this time his sister was actively engaged. The little boy was named Calvin and his sister was Jessica. She was a freshman in high school and he was in Kindergarten.
"Do you go to school with other kids?" I asked Calvin.
"Yes!" he answered enthusiastically.
"He does school online." Jessica corrected him, but he didn't seem to notice.
A few days later we connected once again. The spring air was crisp and the wind brought a chill to an otherwise perfect day. This time I was walking Micah, my Maltese and we had crossed over to the other side of the street to avoid three people getting out of their car to visit one of our neighbors. In that moment, the boy and his sister appeared from the back yard. She held a garden hose and he had a small shovel for digging in the yard.
"I see you again! Is that Teddy? No, that isn't Teddy. Who is that?" His sweet little voice was music to my ears on this afternoon.
"This is Micah. He's Teddy's father."
Calvin had to ponder that for a moment. Then I began to speak and I'm not sure where it came from. The words sounded strange in my head and even stranger coming out of my mouth.
"I'm a teacher. I was a teacher. When I was young, I was a teacher. I'd like to give him some books. Is that okay?"
"Yes, thank you." Jessica did not smile, but I could feel her pleasure.
I waved once again and then Micah and I were on our way.
Back at home, I realized Jessica might be thinking that the books would be old, used ones and probably not age appropriate. I hadn't had time to explain that I still ordered books online each month and donated most of them to schools, youth groups, and non-profits in both of the cities where I live, as well as giving them to friends and neighbors. I took two boxes from my book closet and carefully emptied them on the dining room table, with one box on each side of me.
I put Don't Let the Pigeon Drive the Bus, Llama Llama Loves to Read, and How to Catch a Dinosaur in one pile, and twice as many went back into the first box. Then I went online and ordered a few more titles, including Pete the Cat, Be You!, Mr. Corbett is in Orbit!, and The Cool Bean. It was a nice mixture of picture books, story books, and beginning chapter books. Mostly male protagonists and great diversity among all the characters. Calvin was a smart boy and needed to be challenged. I was already telling his story when I didn't yet know him. I pictured him enjoying a book in his bedroom.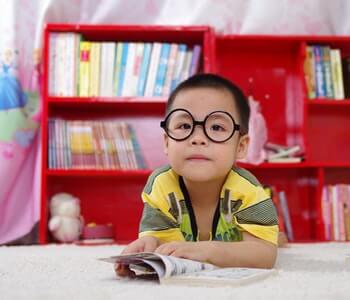 Several days later I placed the ten hand-picked books in a see-through plastic bag and took them with me on my walk. There they were, Jessica and Calvin, doing some work in the front yard and both excited to see me.
"I have some books for you, Calvin," I said, crossing the street in front of his house. There was an awkward moment and Jessica stood motionless as I got a little closer.
"How about if I put them down right here?" I was still on the sidewalk and far enough away to be at a safe distance. I carefully put down the bag and Teddy and I crossed back over to the other side of the street. As if on cue, Calvin slowly walked over and picked up the bag.
"These are my books?"
"Yes, they are for you, Calvin. Jessica will read them to you, and then you will read them to her someday."
They both thanked me and I headed home.
The following day their mother was waiting for me in the front yard when I came walking by with Micah.
"Thank you for the books. Thank you very much."
"You are most welcome. I was a teacher for twenty years and I still order books and buy them at the bookstores."
Days passed and I did not see them. Then it was Wednesday, March 17th and St. Patrick's Day. A 21-year-old man had killed seven women and one man at three spas in the Atlanta, Georgia area. He told police he was on his way to Florida when he was arrested. Six of those he killed were Asian women.
I was saddened by this event for many reasons. I taught many Asian children throughout my two decades of teaching. Many of my friends and colleagues are from countries in Asia. I hosted a teenager from Guangzhou, China over a decade ago and my family and I have maintained a close relationship with him and his family over the years. One of my colleagues adopted a baby girl from China almost twenty years ago.
My first visit to China was in 2008 when my local Chamber of Commerce invited me to go along for almost a month as a part of their group. It was quite the adventure and I will forever remember floating down the Yangtze River and expanding my thinking of what is possible in the world. Two of my friends and I left the group for one day to explore on our own. We hired a car to take us to a section of the Great Wall that tourists seldom visited; we went to a Rotary Club meeting filled with expats and visitors; and we had lunch in a tiny village that made us feel like we were part of their community.
In 2012 I spent several weeks in Thailand for the Rotary International Convention with Rotarians from all over the world. On the way back to the States six of us spent time together in China for several days. Asia is an amazing continent and I hope to return one day. In the meantime, I will get to know my Asian friends even better as they continue to share their cultures with me and mine with them.
On Saturday the 20th of March, the first day of spring, I could not wait any longer. I had three children's magazines I knew Calvin would like. I put them in a brightly colored bag and attached a note I had written on a piece of purple notepaper. It said,
"Here are some magazines for Calvin. I miss not seeing you outside when I walk the dogs. I am thinking of you."
I carefully placed the bag on the front porch. Slowly I backed away, hoping someone would see me and come outside. Then I walked back home even more slowly, turning around to look after every few steps and still thinking one of them might come outside and call my name.
The following morning I drove by their house on my way to the store. The bag still sat where I had placed it. On the way home a couple of hours later, I once again drove by slowly and hoped the bag would have been taken inside by then. No, it still sat there, awaiting the occupants to retrieve it and bring it inside.
Once at home, one of my family members had an idea. What if were to go back and knock on the door? I hadn't thought of that, or if I had I'd quickly dismissed it as being too intrusive of their privacy. But perhaps it was the right thing to do. I walked down the street, crossed over to the other side, and picked up the bag as I knocked on the door. I waited for a full minute and then I rang the bell. All at once the door opened wide and the mother, the father whom I had never seen, Jessica, and Calvin appeared! They were happy to see me! I held out the bag and Jessica took it from my hands.
I smiled, and then hung my head as the emotions welled up inside of me. Then I spoke the words that felt right, in that moment.
"I'm so very sorry. About what happened in Atlanta, I am sorry."
The father whispered something and the mother softly answered him in Chinese. The sister remained silent. He had not understood what I meant, and I didn't want to say the word "shooting" in front of little Calvin. He looked so very small while standing next to his family members.
"Ah, yes," he said and I raised up to meet his gaze. I looked each of them in the eyes and it felt like our souls connected.
Calvin slipped through the opening between his mother and father and stood in front of them to share an announcement with me.
"I'm going to be tall like my Dad." He held one hand high above his head while gazing up at his father and smiled widely.
"Yes, you will be a tall man," I said. "A tall and special man."
In that moment a thousand thoughts and words and ideas and dreams were silently exchanged between us, and I knew they would be alright. We would all be alright, in time. I waved goodbye and began my walk back home.
I'm Connie Ragen Green, connecting with like-minded people throughout the world, and working on achieving world peace one moment at a time.