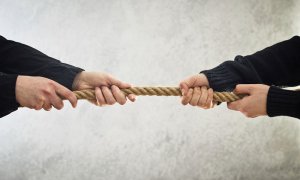 In August of 2019 I had been asked to be a panelist for an international summit on the topic of doing good in the world and making money. As one of eighty-eight experts and thought leaders from around the world I was thrilled and honored to be included. The hosts of this mega event were Sherry Watson and Tom Matzen, two people I had admired from afar for several years. This eight day virtual event was billed as the "Do Good and Make Money Super Summit 2019" and it was awesome.
I was to be featured on the sixth day of this event in a discussion on living an abundant life. There was a mix up on my part when Tom Matzen changed the time for me to join the Zoom room so I arrived about ten minutes into it and had a chance to watch and listen until he could introduce me.
Perhaps I should not have been surprised when I found myself surrounded by people I refer to as "academics," but I was. Before I had time to feel intimidated by their experience and credentials I realized I was in the middle of a power struggle. I have encountered situations like this one throughout my lifetime, primarily as a classroom teacher and sometimes within the real estate industry. Since coming online as an entrepreneur and author in 2006 this has only happened twice, and each time I slowly moved away from the group because it goes against what I live and believe.
My precept is that we are all created equal. When you have solved a problem, achieved a goal, and/or learned how to make sense of the world we live in so that your life experience is more joyous and abundant, it is your duty and obligation to share this knowledge and understanding with your fellow humans.
I listened politely until the hosts welcomed me and had me introduce myself. They had just been talking about the importance of authenticity and here I was, just Connie Ragen Green sharing my knowledge and experiences with thousands of people around the world. I shared my struggle of living paycheck to paycheck while working as a classroom teacher in the inner city of Los Angeles. I told of my experience as a single adult caring for my elderly mother and working part-time in real estate so we could live in a house instead of a cramped apartment in a not so safe part of town. And I explained how starting my business in 2006 after a year of exploration and discovery led me down a path that would forever change my life and my circumstances.
The hosts, Sherry and Tom acknowledged me and the discussion continued. Now it was at a fever pitch, where each of the other four speakers were entrenched in a battle dance, ebbing and flowing with thoughts, ideas, and opinions on diverse topics in the personal development space. Each made a concerted effort to have the best idea and none gave credit to another. I remained quiet yet attentive throughout the proceedings. And when I was finally able to get a word in this is what I said,
"I needed to learn how to make enough money from my online business to cover all of my expenses with grace and ease before I could focus on creating an abundant life."
You could have heard a pin drop and for a moment I thought my words had broken the internet. A minute later everyone resumed speaking while I became quiet once more.
My motto is to keep everything simple, and this was as simple as it could be under the circumstances. It's wonderful to learn how the brain works and to engage in lofty discussions of self-care and high performance and transformation, but most of that is not relevant to you if you are thinking about where the money for your basic needs and expenses is going to come from next month.
Please don't get me wrong. I began learning about all of this and much more while I was still struggling to make ends meet as a teacher and working part-time in real estate. But what truly changed my mindset and outlook on the future was having the ability to create income from my online business. This freed me up to go further in my life and to completely reinvent myself from the inside out.
So I again sat politely in my chair as the others carried on for a while longer. I thought back to earlier in the hour when I had been able to speak. Had I shared what was truly important on the topic of "do good and make money" with those who had registered? I had told my story of waking up one day in the spring of 2005 and knowing I was ready for a new life. I described that day as one in which the colors were brighter and the sounds around me were amplified. This had led to me finding people who had reinvented their lives. Finally I had discovered the world of online entrepreneurship and within a year had resigned my teaching position at the end of the school year and given away my best real estate clients. I had officially "burned my boats" and jumped in eagerly to this new life.
Host Tom Matzen spoke up for me and said what an awesome and incredible goal I had been able to achieve with my business.
I had also shared the love I have for volunteer work and fundraising with my favorite non-profits – Rotary, Boys & Girls Clubs, Zonta, Elk's, and others. Host Sherry Watson is one of the nation's top experts in the world of nonprofit organizations and has nearly 30 years of experience. Her efforts have generated over $130 million in funding and have led movements that changed policies at the local, state and national level that has impacted and improved the lives of millions.
Sherry spoke up for me when I talked about my involvement with Rotary and she shared her story of how this international service organization is making a profound difference in the world. I had mentioned our main focus with the goals of eradicating polio from the planet and bringing clean water to people living in Africa and South America for whom this is a daily struggle. I will assume those people are more interested in what is in front of them each day than they are about personal development and self growth.
Yes, I had shared what was truly important and was satisfied with my input to this group. I decided not to mention the more than twenty books I have written and published over the past ten years or the fact that I have created a seven figure business based on teaching people on six continents how to become successful in their own right as online entrepreneurs and authors. I smiled as I offered one of my products as a free gift and saw the looks of shock on the faces of the other speakers when I again mentioned the importance of earning enough money to meet your financial obligations with grace and ease. And again, it was Tom who expressed his gratitude for this and thanked me for what I was offering to those in attendance and to those who would watch and listen to the replays.
The next morning my inbox was filled with opt ins to my free gift, including the very people who acted as if I had committed a faux pas by talking about money in mixed company. Perhaps I can teach them a thing or two along the way, as much as they can teach me about their area of expertise. Then there were the messages from the people who had resonated with my message and wanted to tell me so. I am answering each one of them and love that we are living in a world where we can do good and make money without competing or getting caught up in a power struggle of any kind.
I'm Connie Ragen Green, author and entrepreneur and someone who loves giving a hand up to those in need. Follow me on Twitter and take a look at my books to see if there is a way I may serve you in your life or business.