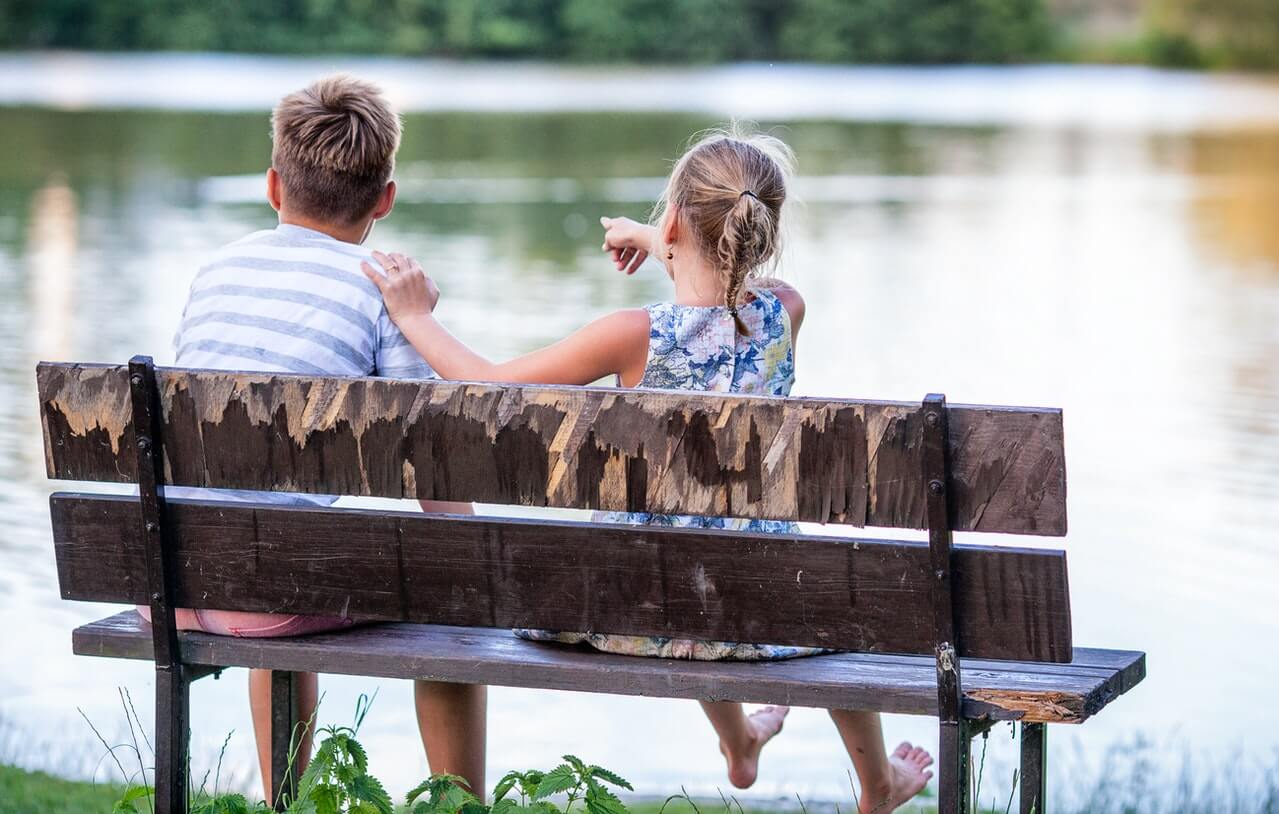 The summer was almost halfway over and Jonathan was making the most of it. Spending time at Lake Saimaa, the largest lake in the country was filled with possibilities. The cool water had personality and held promises of adventure.
In three more days, the annual rowing competitions would be held on the lake, for the first time since they were cancelled in 2020 due to the pandemic. Both Jonathan and his younger sister, Rhiannon were excited to be a part of this historic event, along with their family and friends, some of whom they hadn't seen in person since the world shut down and many aspects of life shifted and changed in response.
When the sun's shadow began to cover the foothills on the back side of the lake, he and Rhiannon carefully packed up their toys and blanket and walked the path back to the cottage.
The sky grew darker and they heard a pop in the sky while they were walking, but neither mentioned it and they stayed the course.
Grandma would have lunch ready for them. As they walked side by side, they imagined what she'd be serving them today.
Jonathan was sure it would be baked eggs and fried potatoes, while Rhiannon believed it would be sandwiches of fried ham and soft cheese, cut into perfect little squares and arranged like a geometric design on their plates, topped with a dollop of sour cream. There would be sweet tea and lemonade and vanilla bean ice cream for dessert.
Their parents car was in the driveway when they returned. Jonathan challenged his sister to a race, and they flew down the rest of the path, up on the gravel driveway, and across the steep porch stairs to see who could get inside first.
Rhiannon was the victor and no one looked up when they came in laughing and out of breath.
"You think you know someone, really know them, until you spend time with their family." Mama was speaking and Daddy looked down at his shoes.
Grandma peered from behind the curtain that separated the kitchen from the living room.
"You two get cleaned up now so you can take some food. We'll be leaving right after lunch and there won't be time to stop along the way. Hurry on now."
Without another word, the children did as she asked and returned to take their places at the table.
Jonathan gave a wink and a half-smile to Rhiannon to acknowledge her for running faster than him, and for being right about what was for lunch.
Everyone was eating now and the only sounds were those from utensils knocking against plates and glasses being put down hard on the wooden table after the sweet tea and lemonade was consumed.
"Can we bring the toy soldiers?" Jonathan had a small collection that he brought with him anytime he could get permission from one of the adults.
This time no one rushed to answer him, but Mother finally answered. She was drying the pots and pans and didn't look up.
"May we bring… best to leave them this time, little man."
Jonathan folded the plastic case and slid it under the chair where he sat. "Yes, Ma'am."
When the last plate was dried and put away, and the leftover food stored neatly in the refrigerator, they gathered what they would need for the trip. Their destination was less than an hour away and today they looked forward to seeing what had changed in the month since they'd last been there.
Everyone had their spot in the Toyota RAV4. It was a hybrid SUV, shiny and white with soft black interior. They turned right out of the driveway, slowly making their way down the gravel road until they reached the main road. Lawrence instinctively turned left and merged with the other cars. Suddenly, he made a u-turn.
"Papa, where are you going? This isn't the way."
"It's alright, Johnny Boy, we're taking a side trip today."
"What's a side trip?" asked Rhiannon.
There was no answer, but Jonathan soon figured out they were not going to the vegetable market outside of town, but instead headed to the border between Finland and Russia. He had seen pictures of it, and stories on television more recently, but no one had mentioned anything about it out loud.
When they arrived, they could all see that the border crossing had been closed. Father continued further down the road, and then pulled over to the side. He put the transmission in "Park" but didn't turn off the engine.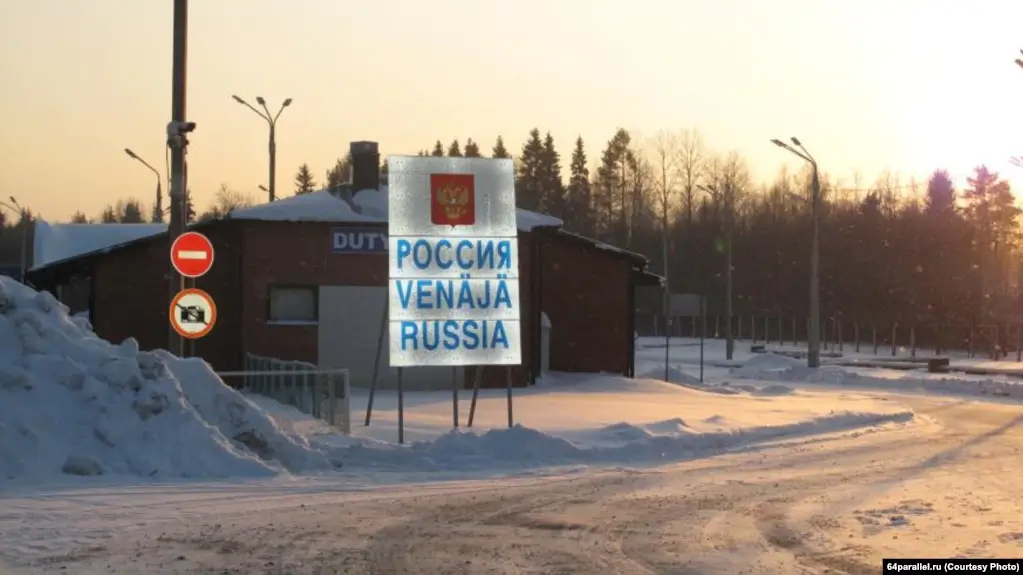 "Things have changed in Finland," he said, looking straight ahead and without emotion. "I want all of us to see it with our own eyes before there is more talk from those who only speculate. It's best to decide for yourself what's right and wrong, before words are put in our mouths."
Rhiannon began to cry softly and Grandma put her arm around her so she could cradle her gently.
Mother was craning her neck to see, and she finally put the window down a bit. "It looks like there are soldiers ahead. A checkpoint."
"I'm going to drive in closer. Be quiet and respectful. It's not our territory. At least not right now." Father put the car in gear and inched forward.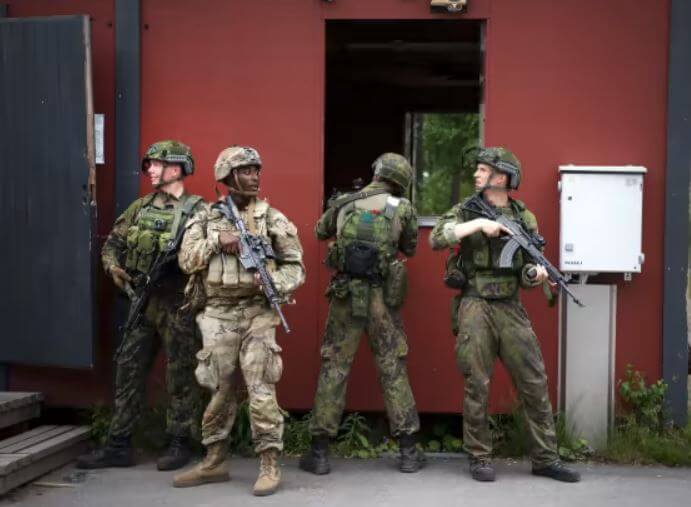 There were American and Finnish soldiers standing side by side. They did not look directly at the family, but they kept a safe distance from them and the car moved slowly past them.
The Finnish Defense Forces were hosting a contingent of US Army soldiers. These were the soldiers of the Guard Jaeger Regiment, practicing with US soldiers the breaching of buildings occupied by the enemy. They were young and looked very serious about their work.
At the end of the road, Father turned the car around and we drove out the way they had come in just minutes earlier. He drove past the intersection they had used to find this place, and soon they were on our way to the vegetable market.
Jonathan waited until he could see the market in the distance, and then broke the deafening silence.
"What does it mean, Papa? Are we going to die? Will the soldiers kill us with their guns?"
Everyone stayed silent as Father pulled into the parking lot. A family with two small kids and a scruffy looking dog passed by the side of the car. Once they had moved on, he turned around in his seat to address the others.
"We are safe, for now, at least I believe that is so. You will begin to hear some strange sounds in the distance. Those will be missiles, flying quickly through the air. We must not be afraid to live each day as we have been, but there will be changes for us all. Do you understand?"
Everyone nodded. Then Rhiannon asked, "But Papa, will I go to school next month? I so want to return to school and see my friends, and the new teacher. She has come all the way from America to teach us English. Will she still be coming for us?"
Papa forced a smile. "Yes, little one, the teacher will come. She will teach you and the others more than English. And when the time is right, Mother will invite her for dinner."
With that, they all exited the car and walked towards the vegetable market. As Jonathan walked alongside his parents, sister, and grandmother on that day, he felt a little taller and a lot older than he had been earlier that morning.
Olga Arrives in the Village
Less than a week later, a call came from the Headmaster at the school. The new teacher had arrived from Lappeenranta. She had been living for the past year in Kamennogorsk. She would be teaching the children living in and around Mikkeli, and this included Jonathan and Rhiannon. The Headmaster asked: Could she stop by to meet everyone later today?
She was tall and slender and her posture suggested her life had been a difficult one. She knocked confidently, then stepped back away from the door. When no one came, she knocked more loudly this time, and was taken aback when the door opened and a small girl greeted her and met her gaze.
"They say you know when a Finn likes you, when he looks at your shoes instead of his own." ~ Old Finnish Proverb
I'm Connie Ragen Green, searching for the truth and the hope that lies within all stories, and sharing my thoughts and perceptions with you in a variety of ways. Come aboard for my complimentary Action Habits Challenge and let's discover and unwrap the mysteries of the Universe.