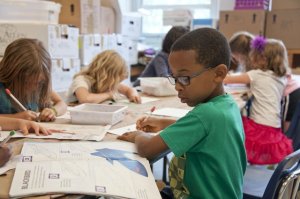 My glasses had slipped out of the pocket in my purse when I got out of my car that morning and I saw one of the shiny brown end pieces (these are officially called the "temples") sticking out of the space between the passenger seat and the console. I slid in carefully and had them firmly in my hand before I closed the car door.
A quick glance around assured me I was alone as I turned the key in the ignition. The engine emitted a soft whirring sound and the radio was playing a song from Creedence Clearwater Revival, Bad Moon Rising. I broke down in tears and took a long drink of water from my bottle before putting the car into reverse and backing out of the space and exiting the parking lot. Each morning I parked in the same spot, right behind my classroom and being able to see my car though the window was comforting. On the drive home I cried a little more and pulled myself together before I arrived.
Another day at school. When I was in my classroom with my students it was Heaven. Interacting with the other teachers was another story.
When I returned to college to earn my teaching credential during the 1980s there were more than a few things I didn't know. The first was that once I found a job I would be in the union. I also learned that once hired by the District it would be up to me to find my own teaching position within the more than one thousand schools within the vast Los Angeles Unified School District that served more than six hundred thousand students. The most surprising discovery I made, before the school year had even begun was that many of the teachers I would be working alongside did not enjoy spending time with children every day. In fact, they detested working with children. Some of them also had an issue with children of color. These discoveries saddened me more than anything.
There was a shortage of teachers in Los Angeles during the 1980s, so when I began the credentialing program I was encouraged by my professors to apply for an "emergency credential" downtown at the offices of the Los Angeles Unified School District. I did that in the spring of 1986 in hopes of getting an assignment not too far from home. They informed me that it was up to me to contact the schools and let them know I was available.
I began substituting at several schools and one in particular felt like a good fit for me. By the end of June I had subbed more than fifty days in almost a dozen schools, including a long-term four week position in a third grade classroom where the teacher had come down with chicken pox.
The summer arrived and everyone I knew asked me where I was going to work in the fall. My answer was that I knew one of the schools I had substituted at would contact me when they knew they had an opening. I enjoyed my eight weeks off by swimming, hiking, and camping for two weeks in Yosemite. Sure enough, by the middle of August the school that had been my favorite asked me to begin the year with a long-term position. I wouldn't have a contract but they said that was definitely possible before the end of December.
They opened the school a full week before students were to return. This gave the teachers the chance to set up their classrooms and adjust to the schedule after two months of sleeping late and having their days to themselves. This would be the only traditional calendar school I would teach at during my twenty years teaching at four different schools, but of course I wouldn't have known that at the time. My excitement got the best of me and I was the first one to go through the gate each morning after the custodian unlocked it at six-thirty.
Those first days were magical; finally I would have my own classroom and be able to share with and impact the young minds placed in my care. I was assigned to Room 3 and it was in close proximity to the office, the library, and the auditorium. I got to know the other four teachers in my area and they were kind and welcoming.Two of them had met me previously when I was doing the long-term position and the others had only seen me from afar during that month.
NOTE: Seven years later all five of us would have contracted Lung and/or breast cancer and two would die the following year. We became a part of the first "Teacher's Study" in California that studied the impact of prolonged exposure to asbestos (the auditorium next to us was filled with it, but the District said it would only be a problem if there was an earthquake) on the health of workers. But this is a story for another time I promise to share at a later date.
The five of us got to know each other that week, having lunch together, exploring the book room, and each of them taking me aside at some point to explain some things a brand new classroom teacher might not know. On Friday night we went to a Mexican restaurant a few blocks away to celebrate the official end to our summer vacation and the beginning of a new school year on Monday. It was during dinner where I learned the first of some things that would make me feel disappointed. They were all drinking and I had promised to be the designated drive and make sure each of them got home safely. That gave them permission to let the Margarita's flow and with them some of the secrets they had been anxious to share with me all week.
They were surprised when I said that I did not know the husband and wife who would also be teaching in the 5th and 6th grade block. They were Lillian and Ed Cook and among the only teachers who were not on campus with us that week. It turned out they traveled every summer and did not return until the day before school began.
My new friends warned me to be careful around them. I was confused and they explained that these were people who were used to having their way and would not appreciate me standing in their way. When I tried to assure them I had no intention of stepping on toes or causing any problems they informed me that I might find that quite difficult. Then I reminded them that I did not yet have a contract and that I was simply a long-term substitute who could be replaced at any time. They smiled, ordered another round of drinks, and we talked about more interesting things until I began taking each of them home.
When I was ready to take the last one of the group home, she told me she needed to get something out of the trunk of her car. I offered to help her and that's when I saw the set of books partially hidden beneath a towel.
"What's this?" I asked. She was leaning on me a little to offset the effects of the alcohol.
I asked my question a second time and when she declined to answer I came to my own conclusion; she had stolen the class set of Core Literature books from the book room. This was strictly prohibited because the books were there for all of the teachers to use. You chose the title you wanted and checked them out for six weeks. This set consisted of 38 copies and a teacher's guide for the book "Bridge to Terabithia" by Katherine Peterson. Quickly my mind went back to the book room and I hoped no one had taken "Roll of Thunder, Hear My Cry" because I truly wanted to share this story with my new students.
That weekend was a busy one as I prepared for my first day as a "real" teacher. On Monday morning I was at school bright and early. The teacher's parking lot was right behind Room 3 and I had chosen the spot where I would park each day. As I exited my car and popped the trunk to take out my rolling cart I was startled when two people came up behind me.
It was the Cooks, the couple my new teacher friends had told me about. I turned around quickly to greet them.
"I'm Lillian, and this is Ed," the woman said. She was tall and blonde and dressed like she was going to somewhere more formal than the classroom.
Ed extended his hand and I shook it firmly. He hadn't let go when he said, "I'm out in Room 28, in the Gifted Magnet. Do let me know if you need anything."
The two of them gave me the creeps and I now wished no one had told me anything about them. I would be interacting more with Lillian than with her husband, as the regular school didn't mingle much with the Magnet. I knew so little about how that worked on that day.
My first week was busy and filled with activities and learning for me as well as my students. Whereas I thought I would be using my Spanish in the classroom it turned out that most of the kids had just recently immigrated to the United States. I discovered that only five of my thirty-eight students were Spanish speaking, and one of them had set a goal of only speaking English at school. More than a dozen of the remaining thirty five kids spoke some dialect of Latvian, Romanian, Lithuanian, Ukrainian, Farsi, Russian, Polish, Armenian, or Farsi. Two students, a girl and a boy who were first cousins spoke both Hebrew and English but were not allowed to speak English at home. The remainder of my class was made up of kids from South Central Los Angeles who were being bused in, by choice in order to attend our school.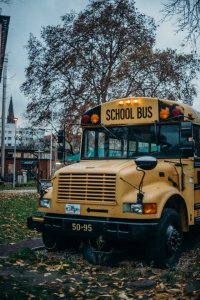 I was overjoyed at my status as a new teacher and it showed in my energy and enthusiasm. During recess one day the principal called me in to his office to let me know that the teacher for whom I was working had called from Sebastopol, a small town in northern California where she wished to relocate to tell him that she had an impending teaching position there. I was so excited and glad I had not spent my summer worrying. Everything was working out and I was on my way.
By Friday I had learned so much and truly connected with my class. For the first time that week I left school soon after dismissal and went straight home to begin planning for the following week. I was filled with hopes and dreams for what my students and I could accomplish during our school year together.
What goes up must come down. It's a universal law of physics and gravity. On Monday morning I would learn that this law applied to feelings of exhilaration as well. On the way in from the parking lot the Cooks approached me and I slowed down to speak with them. Ed locked eyes with me before Lillian began to speak. She explained, in a sugary sweet voice I had not heard out of her during the previous week that they would be resuming their Friday movies this week. I must have had a puzzled look on my face because they both took a step closer to me and she began to explain in greater detail.
"Connie, you're new so I don't expect you to understand. The 5th and 6th grade teachers decided to implement a movie day each week as a way to reward the students who work hard. Ed stops by Blockbuster on Thursday evening and chooses something most everyone will like." I could see Ed nodding out of the corner of my eye and she continued.
"It's a very special day for them, Connie. Sometimes we have popcorn and we turn the lights off so it's almost like being at the movies."
"But what do the teachers do while the movie is playing?" My degree of naïvety at that point in my teaching career was greater than I care to remember all these years later.
"That's the best part, Connie. The teachers – there are four of us, including you, of course – take turns staying with the kids. The others go back to their classroom and get work done. I've promised my husband I won't be bringing any work home again this year and I always keep my promises!"
With this she threw her head back and laughed so big I could see a crown that was slightly discolored in the far back of her mouth. They were both smiling widely and laughing like they had just robbed a bank and got away. I was sickened at what I was hearing and not sure how to react.
"What about the kids who didn't work hard? Where do they go while the movie is on?"
"They come to my room and sit at a table in the back." It was Ed talking now. "They know better than to give me any problems."
I nodded and we all walked to our classrooms. My smile was pasted on as I greeted teachers, parents, and students. This new predicament made me nauseous and gave me a headache. I went through the motions until recess and then I put my head down on my desk to clear my head.
The other teachers involved, including two that I had met before school began while we were setting up our classrooms all had teaching credentials. My credential was for emergency purposes only and would only be clear after I had taught for two full years and completed my coursework at the university. And this would only occur if I received satisfactory recommendations from my administrators two years in a row.
I wanted to talk to the principal about this. I wanted to say no. I wanted to scream and yell and fight for my kids. But I was too weak to do so and kept my mouth shut. On Friday I sent one of my girls to Mr. Cook's room with the homework she hadn't finished. The rest of my class went to the movies.
We walked together to the room where the VCR and television had been set up and I sat down with them for the first ten minutes or so to see what watching a movie at school would be like. The box the video had come in was on the desk and I picked it up to read more details. The film had been released two years earlier with a rating of PG (Parental Guidance) and the reason for this was stated as "language, innuendo, and potentially scary scenes and situations." I didn't have any work I needed to finish at school and when I returned to my classroom I sat down in a student's chair and looked up at the front of the room to see it from their perspective.
Was I being too protective? Who was I to go against what a group of veteran teacher's had agreed to a year earlier? Perhaps spending a couple of hours each week watching a movie with your friends and classmates was a valuable use of this time.
No! I stood up and felt more strongly than ever that this was a bad idea on many levels. What could I do to bow out of this situation gracefully? The bell rang for our recess and I met my students coming out of the room.
"Was the movie good?" I asked. "What happens at the end? I can't remember."
"The movie isn't over. Mrs. Green. They choose two helpers each Friday to stop the video every twenty minutes so we can take bathroom breaks and talk. We're having popcorn next week." It was Ari talking. He shared that he had seen Ghostbusters twice but liked having a day off with his friends.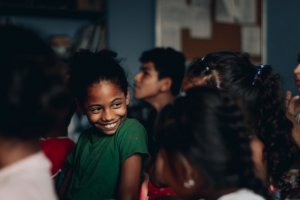 Without saying a word I went looking for Mrs. Cook. There was that toothy grin again, waving at me to come over and join her on a bench while the kids were at recess. I allowed some small talk before I inquired as to the amount of time devoted to the movie every Friday.
She explained, slowly and carefully as if she were talking to a small child, how it worked. The movie was drawn out at least until lunch. After lunch the teacher's could do what they liked (as if we couldn't beforehand) but most took their classes out for physical education until the end of the school day. Sometimes the kids even brought their backpacks and other belonging out on the yard with them so they could be dismissed from the yard when the bell rang.
I thanked her and made an effort to smile. It probably looked like I was trying too hard so I stopped before I walked away. I knew the weekend was going to be a tough one for me. This situation was going to ruin my days off but it had to be this way. On Saturday and Sunday I transformed into the person I had always wanted to be but hadn't had the intestinal fortitude to manifest. It would be the beginning of the rest of my life and I was ready to move forward.
The week unfolded as it had the previous week, with math and social studies, and language arts, and more. No one said a word about a movie for Friday and I let it ride. It wasn't until right before recess on Thursday that I brought it up. I asked everyone to close their books and to look up front because I had something important to discuss with them. My young charges were so good. They quietly put their things away and folded their hands in front of them. It brought me close to tears to see how they looked to me for guidance and direction. I blinked back the tears and stayed strong. They needed me to be a leader right now.
Our class discussion was amazing. I asked them if there was anyone who felt like they didn't get to see enough movies at home or at the movie theaters. We talked about the movie shown the previous Friday and some of them told me their parents would not let them see Ghostbuster because they were too young. They were honest and open and engaged as we continued.
Then I began drawing on the white board. I explained that I already knew everything I would be teaching them during that school year. They smiled and nodded and someone said that was why I was the teacher and not one of them. Then I made a math problem on the board where I showed the result of me not teaching them for one full day every week throughout the year. We were at school for 36 weeks, or 180 days. Twenty percent of that came out to 36 days or just over seven weeks that I would not be teaching and they would not be learning if we had a movie day every week.
"Because I already know all of what I will be teaching you, and I am not thinking about going on to middle school very soon, it really feels like I'm stealing from you. And then there's the other part."
They wanted to know what I meant by "the other part."
"I get paid to be your teacher. It's my job, right? And do you know who pays me?"
They guessed the government, the school district, the principal, and even the President of the United States until I told them the answer.
"You pay me. When you buy something at the store and pay taxes, that's part of how it works. When adults pay income taxes and state taxes, that goes towards my paycheck. So if I feel like I am stealing from you when I only teach you four days a week instead of five, can you imagine how I'll feel if they pay me for five days and I only work for four? That's stealing money from you and your family and all the people who pay taxes who don't even have kids in school. I don't want to steal from anyone."
Then I put it to a vote. And I prefaced the voting by saying that if there was anyone who wanted to see the movie for any reason I would be glad to try to negotiate that on their behalf and would not hold it against them. The result was unanimous. Everyone in my class voted to learn five days a week. And I promised to be the best teacher they would ever remember and make it fun as well. The recess bell rang and then I let some tears flow.
It would be nice if this were the end of the story. During recess word got out to all of the classes involved and those teachers were not happy about what I had done. As soon as my class was settled in and ready for social studies there was a loud banging on our door. I opened it up to find Mrs. Cook glaring at me. I stepped outside into the hallway and she lit in to me. Instead of closing the door so we could talk privately I swung the door wide open so my students could hear every word.
She yelled, she cursed, she called me every name in the book. She had worked herself up into a frenzy to the point that she was spraying spittle on my cheek. But I didn't flinch. When she finally quieted down and took a breath the only thing I said was, "It's over. We already voted."
Then I went back inside, closed the door, and picked up the teacher's edition of the social studies book. Then Gregor raised his hand. I called on him and he stood up to get everyone's attention.
"Why didn't you hit her, Mrs. Green?"
Before I could answer Anca stood up and addressed everyone.
"Because if she did then we would have a new teacher tomorrow."
I nodded but did not smile. "That is correct. We do not grow as human beings by fighting. We do what is right and help all of humanity by using our words and taking actions that prove we believe in what we say."
We worked through a lesson in social studies and they saw that education was about so much more than just reading and answering questions out of a textbook. I was so very proud of them, on that day and forever after.
The Cooks stopped speaking to me after that day, as did at least half a dozen other teachers. A new principal was assigned to our school in January and he soon put an end to movies during school time, unless they were educational in nature and tied to the curriculum. I stepped up my efforts as a teacher in a variety of ways, including writing and receiving technology grants, starting a science fair, and teaching "bank account" math to the parents after school. On the rare occasion when I would go into the teacher's lounge at recess or lunch one of the Cooks would inevitably say,
"You'll learn."
This was meant to let me know I was doing too much for the students. They even told me it was making them look bad if I did too much.
My response was always the same…
"And when I do I'll increase my efforts even further."
"We are what we repeatedly do. Excellence then, is not an action, but a habit." ~ Aristotle
I'm Connie Ragen Green, in love with life and all it has to offer. I will always be a teacher no matter what the setting. And everyone I come in contact with is my student in one regard on another. I've learned more from my students than I could ever have taught them over the years. Giving and receiving is a part of the educational process and crucial to the future of mankind.