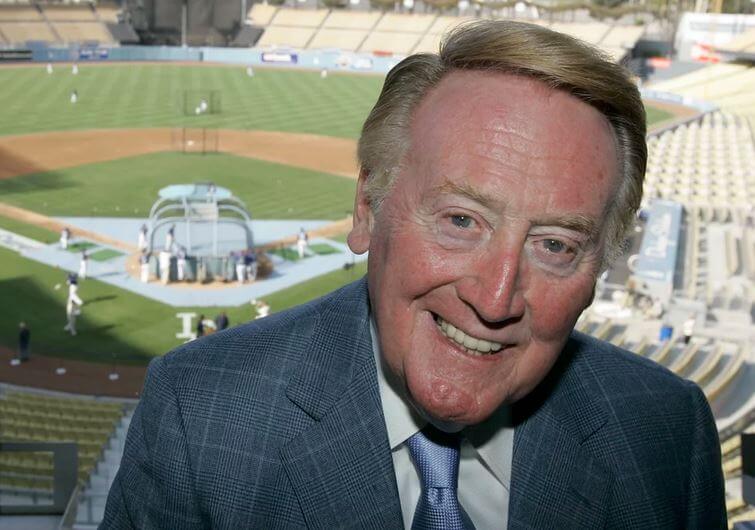 When I heard that sports broadcaster Vin Scully had died, I immediately thought about my students. For a man bigger than life and known all over the world for his broadcasting, he was a giant and a role model for the hundreds of kids I introduced to him over a twenty year period that spanned from 1986 to 2006. Vin's life was indeed a life well lived.
Most of my students were born in the States to parents who had immigrated from Mexico, El Salvador, Guatemala, and the Philippines. Yet, they hadn't been exposed to many things children tend to take for granted.
For example, during my first year teaching in the San Fernando Valley section of Los Angeles, it came to light that not one of my students had ever been to the beach, or to Disneyland, or to a professional sports event. I taught 5th and 6th graders that first year, and asked the principal for permission to begin taking students to these places on the weekends.
Permission was granted, and rules were set in place to ensure everyone's safety and well being. I enlisted the help of several of my adult friends, so we would always have both a male and female adult supervising these young people. The very first outing was a trip to Dodger Stadium to see a professional, major league baseball game.
My friend, George, agreed to drive us in his truck. I had invited two boys and two girls so we were a group of six. The tickets I was able to purchase were as far away from the field as they could be, but that was what I could afford and the kids did not seem to care.
Vin Scully was best known for his 67 seasons calling games for Major League Baseball's Los Angeles Dodgers, beginning in 1950 (when the franchise was located in Brooklyn) and ending in 2016.
He began announcing games on the radio and then on television when the Dodgers still played in Brooklyn. He spent more time with one team than any other announcer in sports history, before he retired after the 2016 season. This is an excerpt from an article that National Public Radio (NPR) shared:
For more than a half-century, there wasn't a Dodgers game that didn't begin this way for fans at home or the stadium: "It's Time For Dodger Baseball!"

It wasn't just longevity that made Scully great. It wasn't his baseball knowledge—which was prodigious. It was his distinctive voice…poetic and philosophical asides, and his talent for making a personal connection with listeners.

Scully was as much a part of the team as the players on the field. You could hear Scully's voice emanating from radios people brought to Dodger Stadium. Some fans, like Cary Gepner, preferred his radio play-by-play to a TV broadcast without him. "You can listen to Vin Scully call a baseball game and you don't need to watch the game because he paints a better picture than the television could ever paint. I love him."

Vin Scully had baseball statistics ready. But he didn't rely on them. He once said, "Statistics are used much like a drunk uses a lamp post: for support, not illumination." It was the stories he told. They came from baseball, from Shakespeare, from anything he was curious about. Here's an example from an interview with member station KPCC: "We were playing on Friday the 13th and I thought, 'I wonder why the background of Friday the 13th, why it's such a big deal?' So I looked it up and it goes back to the 1800 so and so's"

So, in between pitches, fans learned something new. When there was a big moment on the field, he conveyed the excitement.
Vin Scully had plenty of "big moments" during his career as a broadcaster. This is what he said in 1974, after Hank Aaron's historic and record-breaking 715th home run to surpass Babe Ruth:
"Fastball. It's line drive into deep centerfield. Buckner goes back to the fence, it is gone!" For the next half-minute, Scully didn't say a word. Taking it in as the Atlanta crowd cheered and roared the milestone. And then, Scully said, exactly what that homerun meant, "What a marvelous moment for baseball. What a marvelous moment for Atlanta and the state of Georgia. What a marvelous moment for the country and the world. A Black man is getting a standing ovation in the Deep South for breaking a record of an all-time baseball idol. And it's a great moment for all of us."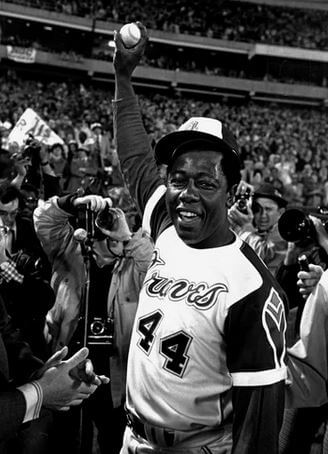 But his biggest moment, in my experience was the night he spoke with one of my students, Omar, after the game.
Omar's father had been shot and killed by a gang member a week earlier, and he had asked me to give his ticket to someone else. But I insisted he join us and told him that a man named Vin Scully wanted to meet him. He looked at me with a skeptical yet trusting look and then nodded that yes, he would meet our group in the school's parking lot after school.
"Bring your glove, Omar. Tonight could be a special one for you." I called after him as he was headed towards the lunch line.
That evening, we arrived at Dodger Stadium a little early. My rule was that you had to stay with one other student from our group, and that at least one of you needed to have a watch. Every twenty minutes I expected the students to check back in with me and the other adult with us, so that I wouldn't have to worry about them.
Being cut loose inside of Dodger Stadium was the most wonderful experience for these young people. Professional sporting events can feel bigger than life, and for those experiencing the roar of the crowd for the first time, I never tired of watching their faces and observing their reactions.
The Dodgers did not win that evening, but what transpired after the game ended was a win for Omar and my belief that Vin's life was indeed a life well lived. As was my usual pattern, we waited in the parking lot for the crowds to thin. Then, we walked over to where I knew the players and others connected with the team parked their cars.
It wasn't long before the players began to emerge and yes, my students were eager to talk with them and ask for autographs. But it was Vin we waited for most patiently, because he was a man worth waiting for on any day.
What Omar and others didn't know that evening, was that I had walked past the broadcasting booth during the game and got Vin's attention. He had seen me many times before and knew I was a teacher who brought my students to the games regularly throughout each season. All I had said to him was "a boy named Omar needs you tonight" and he smiled and nodded.
Vin made eye contact as he approached us in the parking lot. Then he stepped forward and stood in front of us.
"Which one of you is Omar?" he asked. "I need to have a few words with you, please."
We all stepped aside and watched as he put his arm around Omar and spoke to him in a voice we could not hear. I saw Omar wipe his face a couple of times and I knew those were tears that needed to be shed right then. They hugged and both Omar and Vin rejoined our group.
"Could you give us an autograph, Vin?" I asked, in a voice loud enough to be heard by everyone waiting.
Yes, he gave autographs and words of wisdom to everyone in the small circle that had formed around him. But it was what he said privately to Omar that was special on this evening.
Vin Scully was an extraordinary man and a teller of stories. Jeff Passan of ESPN said this about him… "Vin Scully was a storyteller, and nobody ever told the story of baseball better. He called games with such elegance and grace. He spoke only when necessary, allowing the broadcast to breathe when it demanded. He made baseball a more beautiful game."
I'm Connie Ragen Green… author, baseball fan and human in training. While I didn't agree with Vin's politics, religious views, or much else when it came to opinions, I had the greatest respect for him as a human being. And in the end, that's all that counts and makes a difference in our life experience, in my humble opinion. It's the spaces between the notes that make the music, and a life well lived is a worthy accomplishment.