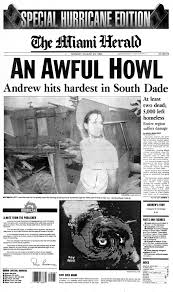 Hurricane Andrew crept in on little cat feet on the morning of August 24th in 1992. Or at least that was my memory of how the chaos began…
I had been in south Florida twice before during hurricanes. The first time had been in late August of 1964 when Hurricane Cleo came through the area and the next was Betsy over Labor Day weekend in 1965. Both years my parents and I had been there to visit close friends on my mother's side of the family and we became caught up in the storm before we could return to California. But I was a little girl then and my memory of what occurred was more one of an adventure than a catastrophe. Trees were uprooted and the power was out for a couple of days, but no one was injured and no property was destroyed. These were simply very powerful storms that lasted for several hours and then it was over.
Now I was an adult, and alone, except for my little dog, Sasha. When I had decided to take a one year sabbatical  from my teaching job in southern California to return to Miami during 1992 I didn't give too much thought to the weather. In fact, I was actually looking forward to the almost daily rainfall after going through so many years of drought. It was only while I was at the grocery store almost a week before this storm would arrive and everything in my world would come apart at the seams that I gave a second thought to the approaching storm.
I was at Publix, a grocery store close to where I was living at the time and as I checked out I picked up a map at the end of the conveyor built. This map was intended to make it easier to track the storm as it made its way up the Atlantic Ocean corridor and grazed the islands in that part of the Caribbean. It might be fun, I thought and folded the map in half and stuck it in my purse.
Back at home I turned on the television to see where Andrew was right then. I placed the map on the coffee table and carefully made a note and some circles on the paper. I did this again over the next two days when I came home from work each afternoon. I had taken a job with the Department of Transportation as a right-of-way appraiser. Even though I couldn't imagine moving back to Florida on a permanent basis I loved having this interlude to spend time with the people and the locations I was familiar with from my earlier life.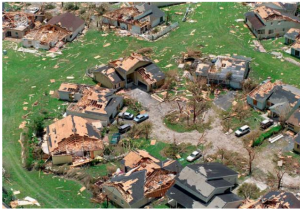 The winds began early in the afternoon. They were gentle at first, then more sub-tropical in that it had begun raining softly.
"This isn't so bad" I said out loud. Then an hour later the rain and the wind picked up and finally grew to the point where it sounded like a freight train coming down the street that was neverending. I was on the phone with a long time friend in California when the lights flickered and the power went out. I can remember telling him that my aluminum garden shed in the backyard had blown away and that the lawn mower and garden tools were still in their previous position, now exposed to the elements. At some point the line went dead and weeks later I would find out my friend told others on that day he was the last one to speak with me while I was still alive.
The next big wind came moments later, peeling the roof off like a tin can being opened by a giant. I grabbed little Sasha, my purse, and my renter's insurance policy and dove into a small closet with accordion doors in my master bedroom. Together we rode out the storm for what seemed like more than a day. It was actually about seven hours.
The couple next door had given me the key to their house after taking my advice to evacuate the area. They had only closed escrow a few weeks before and Andrew caught them by surprise. They were from Ohio and the husband had been transferred to his company's South Miami office. The wife was four months pregnant and this was their first home. They also had a two year old son, a charming and happy little boy who had fallen in love with his new bedroom, his backyard, and going to the beach every weekend. I encouraged them to drive to the Gulf coast of Florida where they had some friends and promised to check on the parakeet they were leaving caged in the bathroom, considered to be the safest room in the house during a major storm.
The sounds around me were deafening as I sat on the floor in the closet that now felt claustrophobic. We didn't use cell phones back in 1992 like we do today; instead, many people had pagers to alert them when someone needed to reach them. My pager went off every few minutes until the battery went dead. Sasha whimpered and I held him close until he calmed down a bit. I was scared and angry with myself. I had made a poor decision to stay instead of heeding the voluntary evacuation warning. With so many friends located within an hour of where I was living, I had the choice to stay with any of them. I chose to stay and at that moment I realized I might have to pay for that decision with my life.
My area was not supposed to be hit so hard. The last update I had made to my grocery store hurricane map showed that it would pass over quickly, with a very calm "eye" after a few hours. During the eye I intended to go next door to check on the parakeet and perhaps stay there until the storm was over. It was a Category 3 when I made my notes and folded the map carefully in half and placed it on the small table where the television sat in the living room.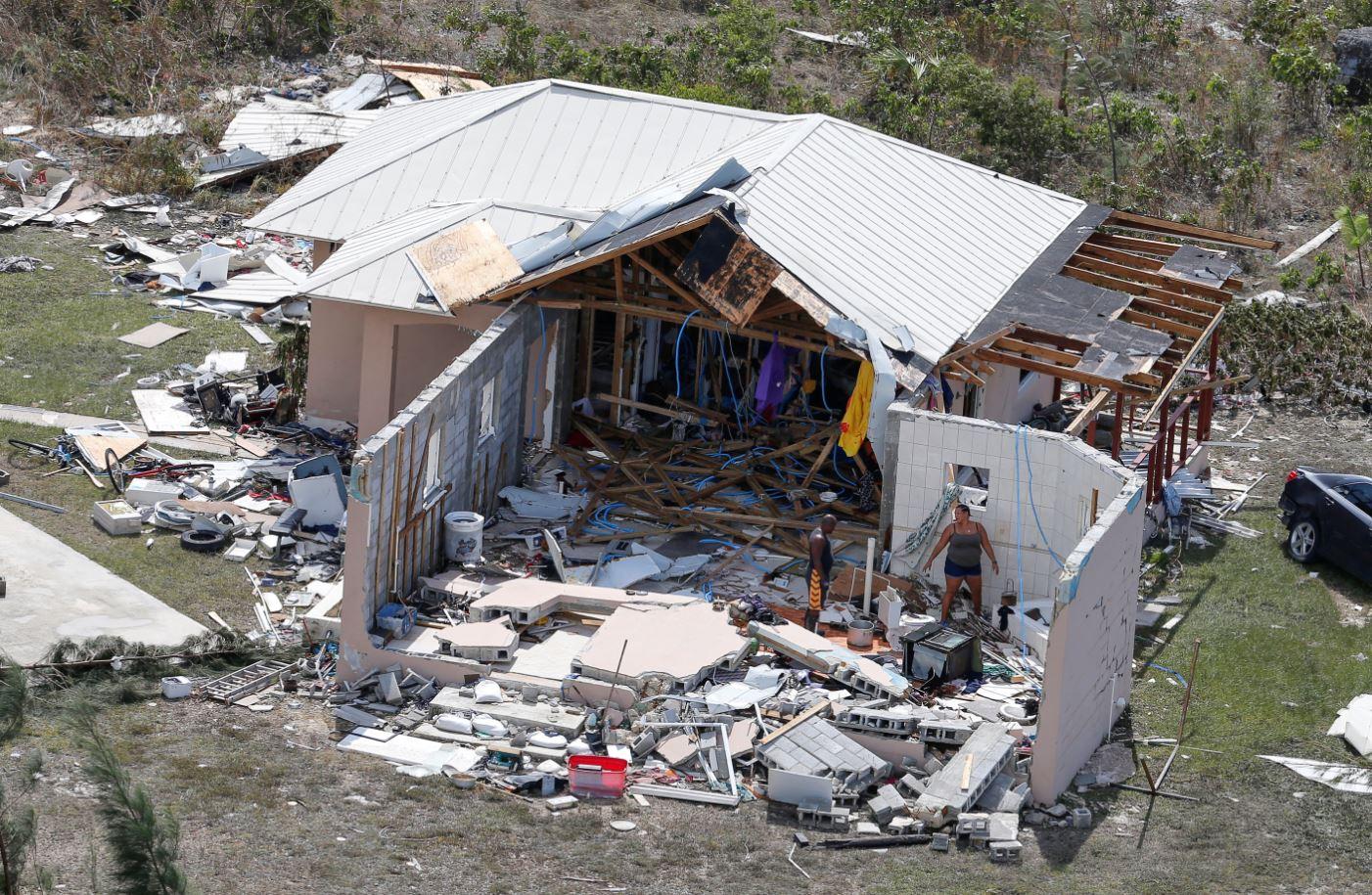 Hurricane Andrew had grown in width and intensity and made landfall as a Category 5 when it arrived in the Keys and moved into my area an hour later. The winds were at 165 miles per hour and the storm surge was estimated to be much higher than the ten feet predicted the day before. The Miami Herald described the sound as "an awful howl" when a special edition of the newspaper was published the following day.
I can remember waking up at some point and seeing daylight peering in through the accordion doors of my closet refuge. Sasha sat up and together we ventured out to see what it was like. I'm sure my mouth was wide open when I finally stood up in my bedroom and had a look around. The house had come apart.
The cleanup after the storm was brutal. With a twenty foot storm surge along with so much high wind my street was underwater when I first ventured outside. One of the neighbors who laughed at me two days earlier when I was taking photos of the neighborhood sheepishly approached and asked if he could have a copy of what I took to give to the insurance company. I nodded. When he had asked me why I taking pictures I had answered "Because something will look different. A tree may get uprooted."
It was my life that was uprooted now. I carried Sasha, putting him down so he could pee and then scooping him up again to hold him close. There was only one wall still standing. It was the one along the front of the house, where my bedroom was at the end of the hallway. As I made my way around the side of the house where my bedroom was I found the dead body of a woodpecker. He had annoyed me so as he hammered away at the tree outside my window for weeks leading up to Andrew's arrival. Now I would have given anything to see and hear him. It looked as though he had hunkered down in the tree and it had been knocked down by the wind or perhaps a small tornado that had been a part of the storm.
Because I was leasing the house I was in it made more sense to assist the neighbors with their cleanup efforts than to do anything more than make my place livable until I could be rescued. On the second night I discovered that if I waited until the wee hours I could take a shower with the small amount of water coming out. I had to lather and rinse quickly so I wouldn't be caught with no way to get the soap off of me until the following night.
In exchange for a meal each day I helped others to roll up wet carpet, sift through valuables from dresser drawers, and sweep up broken glass. I even got up on the roof one day to help cover the open areas for the impending rains that eventually come after a storm of this magnitude.
The couple next door returned from the Gulf coast two days after it was over. They had purchased and closed escrow on their home just weeks earlier. They had a two year old boy and the wife was pregnant. They had given me the key to their house after I encouraged them to leave until it was safe to return. I was to check on the parakeet in his cage in the bathroom when the "eye" of the storm passed over, but their was no calm within Andrew that could be detected during the night. As I helped them to pull one of their citrus trees upright the wife shared that she had lost the baby the day before. We had a group hug, cried openly, and went back to work. The parakeet didn't survive and the cage was found crushed among the debris in what used to be their hallway.
Even though my car was ruined – the storm surge had drenched everything in salt water and rendered cars and other vehicles useless – I did have a bicycle. I rode a few blocks with my purse over my shoulder to see what I could find. The ATM machine at the bank lay on the asphalt about fifty feet from where it had been when it was attached to the bank. Luckily I had about a hundred dollars in cash if there was anything to buy.
At some point I realized the street signs were all gone and the landmarks not recognizable so I made sure not to go too far and be unable to find my way back home. People were gathered up ahead and I saw some National Guard members surrounding a small truck. It was one of those trucks that come to job sites to sell food to the workers. For five dollars they served me a hot dog and pointed to a cooler for me to choose a can of soda. I leaned my bike against the curb and sat down in the street to eat. None of us spoke and I can remember feeling like a starved animal who had finally found food.
On the third day I rode my bike in a different direction and noticed there were telephone poles on the streets I passed. My street had underground telephone lines. This meant my phone might be working. I pedaled faster and dug among the rubble in my living room to locate the phone and cord. Sure enough, I had a dial tone and called my mother. I'll never forget how relieved she sounded to hear my voice or her words to me about making sure to keep my door locked. I didn't tell her I could lock the door but anyone who wanted to could enter the premises without any barrier because it was all open.
I then rode back to where I had been and told a lady walking down the street with two toddlers she could use my phone and tell others as well. Within an hour I had a line in front of my house and I listened as everyone called the operator to make a collect call and then broke down as they spoke to their friends and family members. There were so many tears that day and I was so glad I could help. Not one person called direct but I wasn't worried about the phone bill.
On the seventh day the National Guard showed up with two of my co-workers to rescue me because I was a Federal employee. I had twelve boxes of belongings, carefully wrapped in plastic and they placed them in the back of their truck. I was holding Sasha and my purse and a plastic bag of clothes. One of the Guardsmen asked me about any looters coming by. Yes, they came throughout each day and night and you diverted your gaze so they could take what they wanted. They took furniture and electronics and one asked me if I had any guns. No, I didn't have any weapons. They had assault rifles and blank stares and I was just thankful none of them had touched me.
I gained some perspective from what happened here. Some of it was compassion and some was in regards to material possessions. During the months leading up to Andrew I was in the habit of filling the trunk of my car with books to give away. Wherever I went people asked me if I had any books; the answer was always Yes! and I popped the trunk open to reveal my latest offerings. I estimate I gave away a thousand titles, mostly hardcover with a mix of fiction, non-fiction and cook books. I lost at least another thousand when they were destroyed during the storm and became a part of the rubble and as I sorted through what used to be my life I would say each title and author's name out loud as if they were being buried at sea.
Weeks later I accompanied my insurance agent back to the house so he could file his report. I recognized his last name and it turned out I had gone to junior high with his younger brother. Once we were at the house he commented that he thought a crystal dish on the living room floor might be salvageable. As we bent over to pick it up we saw that the maggots were so thick in the carpet they looked like a part of it. Without saying a word we stood up again and he checked the box on his sheet that said "total loss." Rats and possums now occupied what had been my bedroom and scurried into the closet, my accordion door closet to get out of our way. I wondered what had happened to the people who had lined up to use my telephone to call their loved ones. Had they all made it out of this mess and on to somewhere people would love and care for them?
My renter's policy covered my personal belongings and I was issued a check for the policy limits. A check for $50,000 in exchange for a lifetime of memories and acquisitions. It took me time to decide how I felt about that. A month later I would return to California. That is a story for another time.
Hurricane Andrew was the costliest hurricane in financial terms until Hurricane Irma surpassed it 25 years later. It was the strongest landfalling hurricane in decades and the costliest hurricane to make landfall anywhere in the United States, until it was surpassed by Hurricane Katrina in 2005. Andrew caused major damage in the Bahamas and Louisiana, but the greatest impact was felt in South Florida, where the storm made landfall as a Category 5 hurricane, with 1-minute sustained wind speeds as high as 165 mph (266 km/h). Passing directly through the city of Homestead in Dade County (now known as Miami-Dade County), Andrew stripped many homes of all but their concrete foundations. In total, Andrew destroyed more than 63,500 houses, damaged more than 124,000 others, caused $27.3 billion in damage, and left 65 people dead.
I'm Connie Ragen Green, grateful to be living through a time when our experiences can move us closer to our goals, and to the person we want to become. We are all works in progress, I believe.