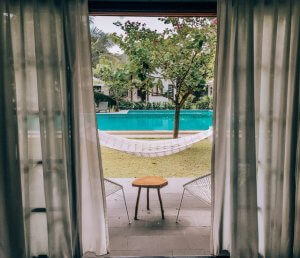 I had been in real estate for several years before becoming a classroom teacher. It was while watching the Space Shuttle Challenger launch with some of the other agents in my office in front of a tiny, black and white television set on January 28th, 1986 that I made the decision to return to school to earn a teaching credential. So it makes sense that these two careers would forever be intertwined.
When Emi Yamamoto came to me at recess and closed the classroom door facing the play yard behind her I wasn't sure what was on her mind. She sat down in one of the student's desks and folded her hands neatly in front of her. She paused for a moment, look down at her hands, and then looked me straight in the eyes before speaking.
"Rik and I are to buy our first house. We would like for you to find the right one for us. Will you help us, please?"
My eyes surely lit up as she carefully formed each word.
"Yes, of course I will, Emi. This is wonderful news!"
I had been leaning on the corner of my oversized teacher's desk and now I was fully upright and engaged. The bell rang at that moment and it would be hours later, once the children and most of the adults had gone home for the day before we would talk again.
It turned out Emi's in-laws had offered to buy a home for them, with some conditions. They wanted a house in a specific neighborhood, with a full sized guest house, and a pool. They lived in Japan most of the year and wanted a place they could call home during the months they came to America to visit their son and daughter-in-law.
"And they want us to have a baby." she added, again looking down, this time at her shoes as we talked outside her classroom.
Emi was of Japanese descent but had only been to Japan once. It was for their wedding, very traditional and formal. I had seen the photos many times since they returned just over a year ago.
"We will find the perfect home for you that has everything you want. And you and Rik will have a child when the time is right for you."
With this, Emi looked up and smiled at me. She needed the reassurance of a friend right then.
I had been working with a partner for nearly all of the real estate business I did since I had begun teaching. Sue was also a good friend and, coincidentally had been dating a Japanese-American man for a few years. When I explained the situation she knowingly offered her thoughts.
"This won't be as simple as you may be thinking, even though they'll be paying all cash. But we can get started this weekend and I have no doubt we will find what they will be happy with. You don't mind if Jon comes along while we preview some homes, do you?"
I knew there was much I did not understand about the transaction we would be entering into. I also knew that Sue had told me many stories of how it worked in a family with parents from a different culture. And Rik had only been living in the States for about five years so he continued to be steeped in the Japanese culture. I was feeling positive and hopeful as we began this new adventure.
The three of us met on Saturday morning in front of my house. Sue and I had each made a list of houses that met the criteria – located in the areas of the San Fernando Valley known as Reseda or Tarzana; full sized guest house; swimming pool. We compared lists and crossed out the duplicates. Jon drove and I sat in the back seat as we made our way to the houses.
This was the most fun I had ever had in real estate. The buyers had no budget and there were several nice properties that checked all the boxes. By the end of the morning we have seen seven homes and went to lunch to decide which ones would be best to show to our clients. We settled on three and called it a day. I called Rik and Emi and made a date to show them the properties after school on Wednesday.
Rik's parents were kind people and bowed to us respectfully and in unison when we met. They understood more English than they could speak. Rik translated everything and they nodded if they agreed or whispered in his ear if they needed clarification. They wanted to know all of the details of each of the properties and became more animated and outgoing as the afternoon turned into the evening.
The next morning when I arrived at school I was surprised to see Rik standing next to Emi in the school's parking lot. They had all stayed up late to discuss their options and had decided to make an offer on one of the homes Sue and I had shown them. I had been selling real estate for almost ten year by that time and had never had anything move this quickly and smoothly. I insisted we visit the property once more before I would present the offer. After school we all drove over in separate cars and met the owners in the driveway.
When I am serious about purchasing a piece of property I set about "stalking" the neighborhood for a couple of days before moving forward. I explained my process to them. I want to know what goes on at different times of the day or night and to speak with a couple of neighbors. They were willing to do that as well and said they had not thought about doing such a thing.
We drove caravan style, Emi riding with me and Rik following close behind with his parents, up and down the street where their prospective new house was located. I turned left at the light on the corner and then right at a stop sign to get us back on what they were already referring to as "their" street. I slowed down and rolled down the windows so we could say hello to some neighbors. I paused in front of their house to speak to a lady watering the grass directly across the street. She was pleasant and smiled at each of us. Her husband was further away, near the end of their long driveway and putting his motorcycle in the garage. We asked about the neighborhood and she said the neighbors were all very friendly, though most people worked and weren't at home very much.
Then we drove past the elementary school and the small shopping area with a Ralph's grocery store and several smaller stores. Every was copacetic and they finally looked at me to see what else they needed to see or do before Sue and I would present the offer. I told them we would complete the paperwork and bring it to them for their signatures and to pick up a deposit. This time I bowed to them and then we all drove away.
The offer was accepted the first time. All cash with a 45 day escrow. Everything proceeded normally and Sue and I took turns contacting the four of them with the latest updates and timelines. After 30 days I began calculating my share of the commission, knowing that we could close and do the final walk through and signings within the next two weeks.
We arranged to visit the property again that weekend. The parents, as Sue and I had come to call them wanted to take some measurements for curtains and furniture for the guest house. The owners were excited to be closing on schedule and shared that they would be relocating to northern California for a few different reasons. Their teenage son was swimming laps in the pool as we passed by and they said he would miss this ritual when they moved north. Emi had just found out she was expecting a baby and on this day she shared the happy news with all of us. I will never forget the look of pride on the face of Rik and his parents. It was something I had not experienced during my life up until that point. Their eyes were aglow and soft tears seemed to appear as Sue and I and the owners congratulated them. I longed to know the story and the history behind their feelings but did not say anything on that afternoon.
The closing was on a Friday. The deeds were recording by 4 pm and all of the required signatures were notarized and in order. Sue was meeting with clients almost two hours away and I agreed to do the final walk through and hand over the keys. As I drove down their new street I saw that the parents had already arrived and that Rik and Emi were coming up behind me.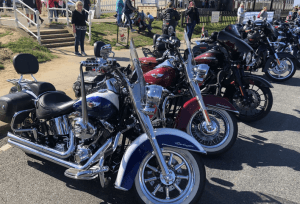 And then it happened…
The parents were standing in the driveway and looking at the house across the street, the one where we had spoken to the woman weeks before. There were half a dozen motorcycles along the street and even more in the driveway leading up to the house. As I got closer I observed they were Harley Davidson bikes and the people riding them and standing by them were all wearing leather jackets. On the backs of the jackets was a colorful design that said "Hell's Angeles – Reseda, California Chapter."
I froze. My life flashed in front of me. In slow motion I saw this real estate transaction rewinding. I thought of calling Sue to ask her for help, and to ask her advice on how we could save this real estate deal. Maybe I would just continue driving, or stop further down the street and stay in my car. But these would be cowardly actions and that was not who I was. I pulled to the side and turned off the engine. It was Rik who approached my car, a smile broadening across his face.
It turned out that he and his parents had taken my advice on "stalking" a potential property to heart. They had been coming by every few days, at different times of the day, and introducing themselves to the neighbors up and down the street. The first people they got to know were the ones we had talked to briefly that lived right across the street. The husband had been putting his motorcycle away that first time and Rik had been curious about it. He talked excitedly about his new friends as he shared the stories.
The neighbor had taken him into the garage and showed him his bike. It was a vintage Harley and he was a member of the local chapter of the Hell's Angels. They met several times a month across the street and Rik was always welcome to come over and get to know them.
"Connie, those Hell's Angels are so nice. And they do good in the community as well. My parents like them and even Emi is getting to know the wives and girlfriends. You found us the best house and the greatest neighbors. How can we ever thank you?"
With this, he leaned in and gave me a tight hug. I smiled and thanked God for His tender mercies. The Hell's Angels had befriended my friends and clients by showing them who they were outside of the perception and stereotype people like me had of them. I looked across the street, smiling and waving in a way that was meant to convey at least some of the feelings and emotions that were coursing through my veins. I was at that time, and continue to be a work in progress when it comes to understanding and interacting with people.
The new baby arrived six months later and I was invited to a pool party for the celebration of the first Yamamoto born in America. There were friends and Emi's relatives in attendance, along with neighbors and people from Rik's work and the school where Emi and I were teaching. It was a glorious gathering I will never forget.
I'm Connie Ragen Green, searching for meaning in a world that is sometimes difficult to decipher. I'm on a mission of discovery, of life and self, and one in which I cease to be judgmental of others. Instead, it's my goal to take the time to hear others out, learn from their beliefs and experiences, and to get to know them as a way to bridge divisions and build stronger relationships along the way. Let's explore this world together together, if you're game and I promise you an adventure like none you could have ever imagined.