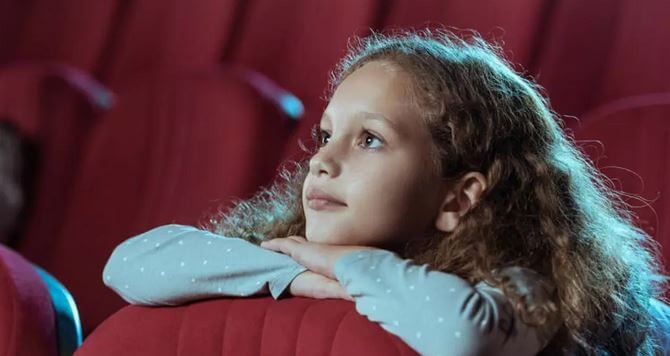 Like so many people, I love movies. As I was planning my schedule around watching the 95th Academy Awards show this past weekend, I thought back to how films have shaped my life over the years and my life in the movies.
Since my mother took me to see 101 Dalmations as my first time in a movie theater in 1961, I have been mesmerized by the big screen. She even took me back to see it a second time, and perhaps that was had I initially got hooked on going to the movies and getting wrapped up in the story that was unfolding in front of my eyes.
Two years later, The Incredible Journey was too sad for me to watch all the way through. We now had a television at home, so I settled into watching a few of my favorites… Lassie, The Addams Family (although I confused that family with The Munsters for some crazy reason), and Gilligan's Island were among my faves, and I tolerated Gunsmoke and Bonanza when we had adult visitors. I wasn't an easy child, and can remember crying on a Friday evening when we took friends to the airport to catch their flight and I missed that night's episode of The Flintstones.
Then there was My Three Sons, and that's the first time I can remember feeling like I wanted to be a part of the television family in my real life. I fantasized that my mother would meet someone like Fred McMurray's character on that show, and that I would then have three stepbrothers and an "Uncle Charlie" of my own.
But it wasn't to be. Before I knew it my mom and I were invited to go to the movies with some neighbors and I was thrilled at the chance to once again go to the theater and watch a story unfold on the big screen. The year was 1964 and the movie was Mary Poppins. I knew Dick Van Dyke from his TV show, but Julie Andrews was completely new to me. This film was also produced by Disney, as 101 Dalmations, my first big screen event had been.
This film was described as a musical fantasy, with animation and songs you'd have in your head forever. I can still picture the theater where we saw the movie on that day so long ago, though the friends we saw it with have faded from my memory. It was the Loew's Riviera Theater, with over a thousand seats at the orchestra level, and another 216 in the loge, which was also the smoking area. There were murals of tropical plants along both sides of the auditorium.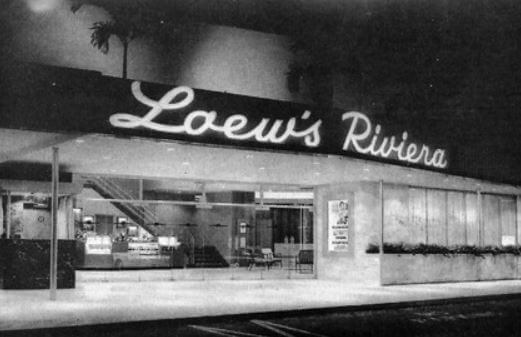 Now that I was getting a little older, I paid more attention to the movies being released. In '65 The Sound of Music came out and I invited my mother to see it with me. I had saved up a few dollars and paid for our tickets, as well as the bus ride there and back. The hills were alive that Saturday and I remember this day as one in which I felt closer to my mom than ever. We sang the songs, softly on the bus and then with more vigor as we walked from the bus stop back home. It was a magical time.
Drive-in theaters were popular at that time, but we didn't have a car. It was only when we finally moved into a neighborhood where there were kids my age that I began getting invited to join them for these weekend evening adventures. My new best friend, Tory warned me that the movies were "stupid and pointless" but that it would be so much fun it wouldn't make a difference to me.
He and his siblings were escaping an abusive father, and his mother also appreciated getting out of the house and losing herself in a movie. I was also willing to help her with the youngest child, a girl named Daphne that needed to be watched closely so she wouldn't wander off or get injured in some way. A drive-in could be a dangerous place in the dark, and that's a story for another time.
Later that year, my mother began dating a man who suggested we go to the drive-in one Friday night. Neither my mother nor I asked what was showing, and he bought us hot dogs and popcorn and soda pop before the movie began. I didn't even notice there weren't any other kids in the concession area, but once the movie started I understood why.
The movie was a dark thriller called The Collector, described as a psychological horror film. This was three years before the Motion Picture Association of America (MPAA) established a system of movie ratings for parents to use as a guide to determine the appropriateness of a film's content for children and teenagers. This system isn't perfect, but it does serve the purpose of making adults think before subjecting a child to something that may be inappropriate for their level of maturity and experience.
If you aren't familiar with this film, here is the plot: Freddie is a lonely, socially-awkward young man who purchases a 17th century farmhouse with winnings he has earned from the football pools. An amateur entomologist, he spends his time capturing butterflies, of which he has a large collection. Frederick begins stalking a bourgeois London art student named Miranda Grey. One day, Frederick follows Miranda into a pub in Hampstead before abducting her on the street, incapacitating her with chloroform.
The scene where the young lady is chloroformed was excruciating for me to watch and the story goes downhill from here. Just writing about it takes me back to that summer evening at the drive-in.
After that experience, I retreated and regressed to watching movies meant for younger children as a way to regain my youthful hope for the human species. I had never watched cartoons – my mother took me to the library every Saturday morning until I was about twelve – but animated movies and shows on television felt safe and comforting for awhile. One that stands out in my mind is Dr. Seuss' How the Grinch Stole Christmas from 1965.
A couple of years later we moved to a new neighborhood with more kids around my age. I was in Junior High now and wanted to have more of a social life that included going to the movies with my new friends. Bonnie and Clyde was released on 1967 and the violence didn't phase me. I can remember the girlfriends I went with to see The Impossible Years (The Cowsills performed the movie's theme song!) and Yours, Mine and Ours during this time. Once again, the theme of families working together to solve their problems, led by a strong and loving father, on the big screen made me yearn for a life that felt impossible to me but still got filed in the back of my mind as a goal worth pursuing.
By the time I saw No Way to Treat a Lady in '68, again with my mother and a lady from church, I was ready to handle more mature themes and to begin thinking of movies as an art form of expression. This film was a psychological thriller that followed a serial killer in New York City who impersonates various characters in order to gain the trust of women before murdering them.
For the first time in my memory, I became aware of the writers behind these stories. In this case, the screenplay was an adaptation of a book written by William Goldman several years earlier. I was already writing short stories and interested in knowing more about how someone's original idea, or an idea based on a true event could take shape and become a story shared on the big screen. I continue to believe that everything we do prepares us for something in our future, and this was an important turning point in my life in terms of my dream of writing professionally.
Next up for me was A Clockwork Orange in 1971, once again taking me back to the drive-in. But this time I was with a boyfriend from school whose father had given him permission to take the car for this date. The film was weird and we felt very grown up that evening.
I can't be sure, but I believe it was several years before I started going to the movies again. The world was changing so quickly, and I was a young wife and stepmother to two toddlers. A movie was a luxury we didn't think about very often.
Movies As a Way of Understanding and Making Sense of History
Then it was the late 70's and it seemed to me as if overnight there were a barrage of  what I thought of as "the Vietnam films" released and I felt I needed to see each one in order to understand the history behind what had occurred, and from a more artistic point of view, rather than from a political or economic perspective.
These films included, in chronological order The Deer Hunter ('78); Coming Home ('78); Apocalypse Now ('79); Platoon ('86);  Full Metal Jacket ('87); Good Morning, Vietnam ('87); and Born on the Fourth of July ('89).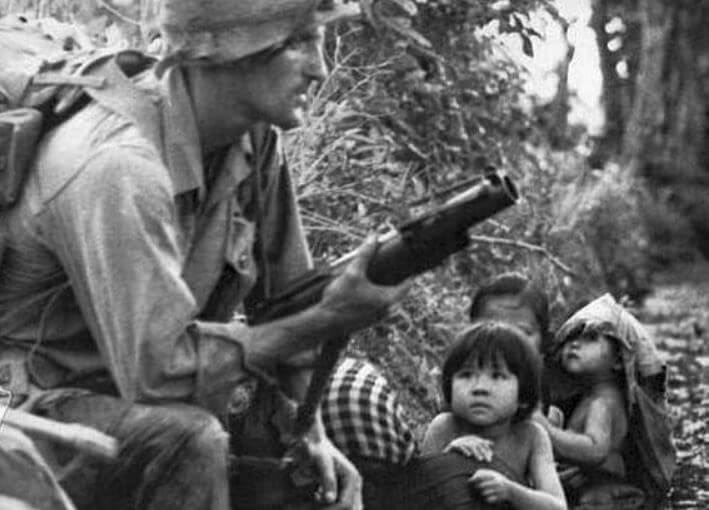 There are more, but the ones I'm mentioning here represent a full decade of my life at the movies where I searched for meaning and answers that would end up coming from within, rather than from stories about the Vietnam experience being told in great detail and played out on the big screen.
My husband had returned from serving in Vietnam just months before I met him, and I wanted to know more about what he had experienced, as much as is possible from an outsider's perspective. He described an existence that was black-and-white, yet filled with colorful stories and I longed to understand. It was also during this period that I came to realize that much of what I'd been taught in history classes at school was at least partially incorrect, or at least filled with perspectives that could not be backed up with the facts.
My Life At the Movies: Film Festivals
I attended my first Film Festival in 1986. It was the Telluride Film Festival in Telluride, Colorado over the Labor Day Weekend at the beginning of September. Our budget didn't include a hotel or condo and instead we pitched a tent at the local campground and took the ten minute walk into town each morning. It was a magical experience, and within a few years it was in vogue to camp during the festivals this quaint town hosted throughout each summer. To date, I have never stayed anywhere in Telluride other than at the campground.
This festival led me to the Santa Barbara International Film Festival the following spring, and I've attended this one, and also been a volunteer more than participating at any other film festival. I've also enjoyed film festivals in Toronto, the Sundance Festival in Park City, Utah, Los Angeles, South by Southwest (SXSW) in Austin, Texas, Miami, Santa Fe, Tribeca in New York City, and Palm Springs.
Yes, I love films so much that festivals make sense for me as a way to connect with like-minded people and to view films and meet people I might not otherwise see or meet or even find out about. I'm looking forward to attending the SCAD (Savannah College of Art and Design) Film Festival for the first time this coming October. This festival is the largest university run film festival in the world and I found out about it while meeting with colleagues for a Retreat in Savannah in January of 2023.
I made an abrupt switch to seeing more films that were based on stories that made me think and feel and question, rather than those that were too light-hearted or nonsensical, at least in my view. This led me to a film that continues to be one of my favorites of all time, 1988's Cinema Paradiso. The plot goes like this:
In 1988 Rome, Salvatore Di Vita, a famous film director, returns home late one evening, where his girlfriend sleepily tells him that his mother called to say someone named Alfredo has died. Salvatore shies from committed relationships and has not been to his home village of Giancaldo, Sicily in thirty years. As his girlfriend asks him who Alfredo was, Salvatore is not able to fall asleep and flashes back to his childhood.
I've watched this movie many times over the years. I even had a client who lived in Italy part-time, and it turned out her father had been a projectionist in the town they had lived in when she was a child. Art imitating life is a beautiful thing.
The Shift From My Life At the Movies to My Life In the Movies
My initial foray into writing scripts and screenplays for the big screen began decades ago, yet it wasn't until 2021 that I committed to making writing my primary focus each day. I still go to the movies more than most people I know, but writing my stories has become front and center in my life. Every day, I don't go to sleep until I've written out at least one new story idea in enough detail to continue with it over the next several days.
Sometimes, I have two or three ideas for stories and smile as I write down what I'll be sharing in the form of a blog post, email message, article, short story, script, or screenplay in the future. Ideas are like Gremlins; if you put water on them (or write them down each day), they will multiply!
I loved the outcome at the Academy Awards this weekend, and my favorite film and actors made history. Everything Everywhere All at Once follows the story of an aging Chinese immigrant who suddenly gets swept up in a wild, interdimensional adventure that sees her emerge as the unlikely hero who must channel her newfound powers to explore other universes to save her family and ultimately the fate of her own world. This film dominated the night with seven wins, of its 11 nominations, including Best Picture, and three of the four acting trophies for Michelle Yeoh, Ke Huy Quan, and Jamie Lee Curtis.
The quote that most resonated with me is from Ke Huy Quan after he was chosen as the Best Supporting Actor for his work in Everything Everywhere All at Once:
"Dreams are something you have to believe in. I almost gave up on mine. To all of you out there, please keep your dreams alive! Thank you so much for welcoming me back. I love you."
He went on to say, "My journey started on a boat. I spent a year in a refugee camp. And somehow, I ended up here, on Hollywood's biggest stage. They say stories like this only happen in the movies. I cannot believe it's happening to me. This, this is the American dream!"
I'm author and entrepreneur Connie Ragen Green, living the American dream by writing and sharing stories about the people and experiences that continue to change my life. Let's connect, so you may whisper your stories to me and I will encourage and empower you to share them with the world.