Imagine, if you will that your life consists of a series of events and occurrences that work in unison and combination to help you become the person you are meant to be. You have choice and agency in much of what occurs, while other events are out of your control. For example, I chose to return to college at age 30 to earn a teaching credential so that I could have a life experience around teaching school. Seven years later I did not have the choice to avoid the life experience of having Stage 3 breast cancer almost take my life.
Beginning with the precept that we may choose some experiences while having to accept others leads to the belief that we may shift our focus to the experiences that are more joyous and positive to enhance our overall life experience. Now I want you to take what I consider to be the logical next step in your journey. I refer to this as the "quilt of my life" and it is made up of many patches.
Thinking back over my life is similar to the process of going through a box of photographs. I can visualize in three dimensional vividness exactly where I was and who I was with at the moment each photo was taken. Sometimes I was the one behind the camera and I can feel what it was like to be photographing my subjects on that day, whether it was people or scenery I was focused on in the moment. I'm smiling at my mother's urging while sitting on the grass in front of the Warner Brothers studio in Burbank as a toddler in 1958; my best friend Tory is sitting atop his new "British Racing Green" bicycle in his driveway in July of 1967 and waits until I click the photo with my Kodak Instamatic; my mother is taking my picture as I receive my diploma at UCLA in 1977 and I pause so she can snap more than one picture. Each of these memories makes up one patch in the quilt of my life. Sometimes I don't have the photos any longer because they have been lost or were destroyed in the hurricane. It doesn't matter, as my memory is sharper than any physical item among my belongings.
The Quilt of My Life Has a Patch Named Ruth
I didn't pay much attention to governmental matters or politics during the summer of 1993. My focus was on the battle I was waging against the cancer that was ravishing my body. What had started out as lymphoma when I found a suspicious lump in my neck the previous fall had developed into a diagnosis of Stage 3 breast cancer. To further complicate this state of affairs I had relocated to south Florida for a year and was far away from the medical community I was familiar with back in California. Then Hurricane Andrew struck with a vengeance and I felt scared and very alone.
It was during this period that President Bill Clinton nominated Ruth Bader Ginsburg to the Supreme Court. She joined the bench in 1993, becoming only the second woman (after Sandra Day O'Connor) to ever do so and the first Jewish woman. It was a historical moment of importance that I missed while laying in a hospital bed far away from my home. Ruth was nominated on June 22, 1993, just days after my 38th birthday; she was commissioned on August 5th; and she was sworn in on August 10th.
Ginsburg died as the sun was setting on Friday, September 18th, 2020, on the eve of Rosh Hashanah. This was the beginning of the year 5781 in the Jewish calendar. She was a Tzadik, a title in Judaism given to people considered righteous, such as biblical figures and later spiritual masters. The root of the word is tsedek, which means "justice" or "righteousness".
According to her close friend of five decades, Nina Totenberg (Legal Affairs Correspondent for NPR), a Jewish teaching says "those who die just before the Jewish new year are the ones God has held back until the last moment because they were needed and the most human of human beings. She allowed us to realized that each of us are essentially divine."
Ruth Bader Ginsburg was an intellectual superhero. Her steadfast determination in the areas of human rights, gender discrimination, and gender equality changed all of our lives. She fought well in these areas, in my opinion because she had experienced them firsthand throughout her life. In my parallel universe, where I am going about my day to day life and the struggles that entails, Ginsburg was the invisible thread opening doors of opportunity and equality for me every step of the way. She lost her mother at age seventeen and said she taught her two things, "to be a lady and be independent" by which she meant that she wanted her not to let her emotions get the best of her and to learn to fend for herself.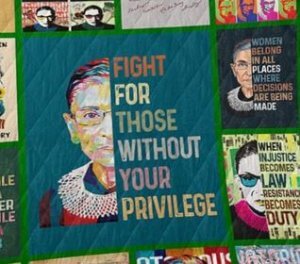 Her collection of collars she added to her robes became legendary, especially after she divulged that she wore different ones for dissenting and majority opinions. In the documentary made about her life and released in 2018, she talked about her love for opera and attending performances.
"The sound of the human voice is like an electric current going through me,"she said. "Justice and mercy — they're all in opera. Very grand emotions." Fellow Supreme Court Justice Antonin Scalia and she shared a love for the arts and their odd-couple friendship is also explored in this film.
In his speech at the Emmy Awards just two days after Ginsburg's death, Tyler Perry shared a story about a quilt he was gifted by his grandmother when he was 19 years old. He did not understand its value at the time, but years later learned to appreciate its meaning for him. It happened when he went into an antique store that had a similar quilt on display. The shopkeeper said to him,
"Let me tell you about this quilt. It was made by an African American woman who was a former slave and each patch in the quilt she had put in represented a part of her life. One part was from a dress that she was wearing when she found out she was free. Another part was from her wedding dress when she jumped the broom."
Perry then understood full well the value of his grandmother's quilt. He continued,
"Now, whether we know it or not, we are all sewing our own quilts with our thoughts, our behaviors, our experiences and our memories.
That was a powerful message and reminder to me. With every thought and belief, and feeling, and action we are sewing the quilt of our life.
Ruth Bader Ginsburg gave birth to her daughter during the same month and year I was born. Jane described being her daughter in one word – exigent. I didn't even know she had children while she was alive. She was an icon, bigger than life and someone looking out for me and millions of others. She only served on the Supreme Court for twenty-seven years, but she served all of mankind from the time she became aware of the need to help those who are suffering. She exemplified her motto to "Fight for those without your privilege."
I'm Connie Ragen Green, standing up for justice and equality at all times and knowing that there are angels among us who pave the way for ordinary humans to reach goals that otherwise might not be possible. The quilt of my life has a patch named Ruth and I am a better human for having observed her at a distance. Ruth Bader Ginsburg was one of those angels whose work will continue in a special way, for eternity.