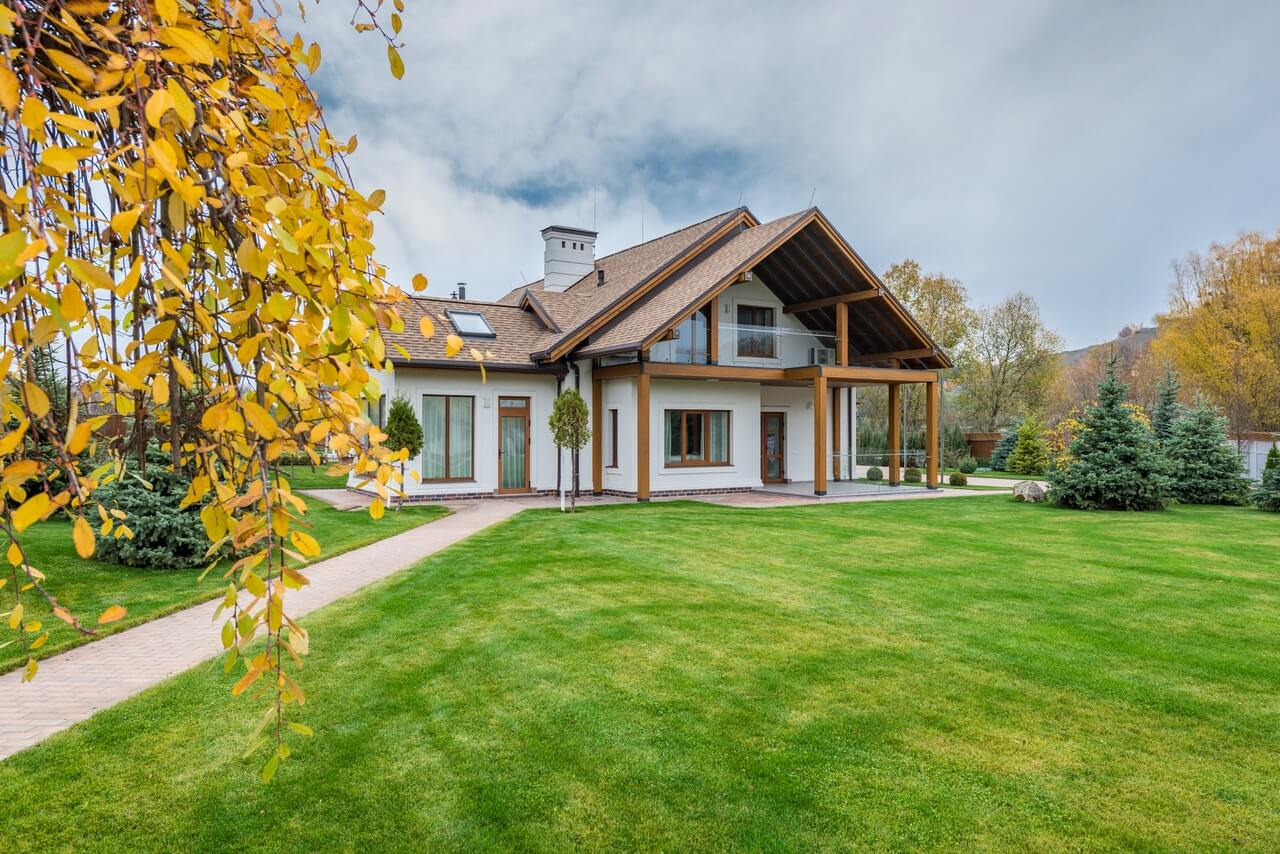 All things considered, having a guest house in your backyard is a wonderful thing. Our new cottage received final approval this past week and my family and I are ecstatic! We've decided to refer to it as the cottage, as opposed to calling it a guest house or ADU (Accessory Dwelling Unit) or mother-in-law quarters or anything else. The cottage represents a full year of planning, pulling permits, building, and envisioning and next weekend we will christen it with a bottle of Bragg's apple cider vinegar. Thanks to Patricia Bragg for agreeing to stop by to be a part of this joyous event. And yes, a river runs through our property and can be enjoyed from three sides of the cottage.
In a couple of weeks, my eldest grandson returns to Stanford as a second year medical student. The family has decided that the the cottage is his for now. He'll be inviting friends to stay over – the cottage comfortably accommodates seven – and we are excited for him to be able to entertain in this way.
Years ago, when I first decided to live in Santa Barbara on a part-time basis I rented a guest house. It was tiny and dark and in a state of disrepair, and I loved it. It was my private and secluded hideaway in a city I planned to call home in the near future. There was something about that slightly dilapidated space that gave me great hope for my future in the city that called to me like no other.
I've lived in four different houses here, each one more interesting and enjoyable than the last. But my dream was to build a home that would serve as my castle. A house that would meet all of my requirements and take on a personality of its own. I hesitated on this project for years. That is, until the fire and the mudslides – known as the "debris flow" to be politically correct – came into our lives.
It all began years ago, and I will chronicle for you how it unfolded for myself and my family. A strong low-pressure system and cold front developed off the coast of California on January 5th, 2018. The system moved onto the mainland on January 8th, bringing heavy rain to Southern California and prompting mandatory evacuations in parts of Los Angeles, Santa Barbara, and Ventura counties, over potential mudslides in areas already affected by the then recent wildfires. The storm intensified on the following day, with at least four inches of rain falling over the two-day period, before ending on January 9th and causing several major mud and debris flows.
What's interesting here is that I had an appointment with the periodontist at eight o'clock on the morning of Tuesday, January 9th. The Friday before I had called their office and cancelled my appointment. I didn't have a reason to take this action and the office manager told me that I could always call them back on Monday if I changed my mind. I promised to reschedule the appointment.
Early on that morning of January 9th, mud flows struck the town of Montecito, just south of Santa Barbara, which had already been affected by the Thomas Fire, and other areas of Santa Barbara County. An estimated 0.5 inches of rain fell within a five-minute period at approximately 3:30 a.m., causing mud and boulders from the Santa Ynez Mountains to flow down creeks and valleys into Montecito. The debris flows were up to 15 feet in height of mud, boulders and tree branches, moving at estimated speeds of up to 20 miles per hour into the lower areas of Montecito. Over 20,000 people lost power, and a 30-mile section of U.S. Route 101 (US 101) from Santa Barbara to Ventura was shut down as sections filled with two feet of mud and debris, some of which also reached beaches two and a quarter miles from the mountains. Following the closure, access to Santa Barbara from the Los Angeles area was limited to a 260-mile detour around the Los Padres National Forest or through the use of private ferries to Ventura.
It wasn't until noon on the 9th that I realized I would have been driving at the exact time and place that morning to get to my appointment. There, but for the grace of God I avoided something that took the lives of twenty-three people.
Approximately 21,000 residents of Santa Barbara and Ventura counties in high elevation zones affected by the Thomas Fire were evacuated, but low-lying areas were outside of the mandatory evacuation area. Warning messages sent by the National Weather Service and the county government arrived too late to prompt Montecito residents to seek safe areas. Many residents in the mandatory evacuation zone, and most residents in the voluntary evacuation area, ignored warnings and stayed in their homes, probably a result of "evacuation fatigue" left over from those recent wildfires I mentioned above. The mandatory evacuation zone was expanded to cover a majority of Montecito's estimated 10,000 residents two days later (January 11th) due to disruptions in electricity, gas, water, sewage and Internet, and due to emergency road works and ongoing search and rescue operations.
The mud flows caused twenty-three confirmed deaths, mostly in the Montecito area, including two people I knew personally. Over 150 people were hospitalized with various injuries. The mud flows destroyed over 100 homes and damaged an additional 300.
As a result, I remained at my second home in Santa Clarita, about 80 miles northeast of Santa Barbara for the next two months. As everyone picked up the pieces, mourned the dead, and looked to the future I made the decision to do something I'd wanted to do for many years: I would finally build a home in Santa Barbara with the intention of living there for the remainder of my life.
~ ~ ~ ~ ~
Fast forward ten months… On the evening of November 7th, 2018 I received a text from my teenage grandson, Michael. It was just before midnight and it read "I'm alright. I'm safe. Talk in the morning." I did not respond at first, then decided to answer "okay" and go to sleep. But sleep didn't come and I turned to Twitter to find out what had happened that would prompt this communication.
At 11:18 p.m that evening, a gunman had entered the Borderline Bar and Grill and opened fire on the approximately 260 patrons and employees inside. This was a favorite place for my friends and family and I had been there for dinner just a week earlier. At the time, the bar was hosting a regularly scheduled College Country Night event, and it was popular among students in the area, especially those from Pepperdine University, California Lutheran University, California State University Channel Islands, and Moorpark College. Both Michael and my older grandson attended Cal Lutheran University at that time. The lone gunman was armed with a legally purchased .45-caliber Glock 21 semi-automatic pistol with a laser sight and seven banned high-capacity magazines, carrying a total of 190 rounds, along with a folding knife, ten smoke bombs, and two fireworks.
Upon entering through the bar's front door, he first killed the cashier nearby, then started shooting at the patrons. He fired a total of 61 rounds and threw smoke bombs. Many of the victims died in the first few minutes of the shooting while they were lying on the floor or trying to charge at the shooter. Witnesses later described the gunman as heavily tattooed and dressed entirely in black. Some people shattered the bar's windows, allowing many to flee, while some others hid in an employee bathroom or the attic. During the shooting, the gunman answered a phone call made by the mother of a patron who escaped, and he also made several posts on social media expressing his thoughts.
At 11:19 p.m., two California Highway Patrol (CHP) officers were alerted to the shooting by people who had managed to escape. They arrived at the bar's parking lot a minute later and were joined by Ventura County Sheriff's Sgt. Ron Helus four minutes after that. The three officers ventured towards the building, with Helus and one of the CHP officers entering at 11:25 p.m. A minute later, they came under fire from the gunman, who had been monitoring their movements through the nine security cameras visible on a monitor in the front office where he had been taking shelter. In the ensuing gunfight, Helus was shot five times by the shooter, who used a flashlight with a laser sight on his pistol in the large, darkened, smoke-filled room. Positioned between the shooter and the CHP officer, Helus was also accidentally struck by a bullet from the officer's rifle that went through his heart and fatally wounded him. Moments later, responding Ventura County Sheriff's deputies, who were securing the perimeter, located and evacuated Sargeant Helus outside the building. A SWAT team and other police officers arrived on the scene shortly afterwards.
The gunman stopped shooting victims following the exchange of gunfire with police. At 11:37 p.m., he lit a firework and threw it out of the bar's front office. Forty seconds later, he threw another firework out of the office. At 11:38 p.m., he committed suicide by shooting himself under the chin. Agents from the Federal Bureau of Investigation, the Bureau of Alcohol, Tobacco, Firearms and Explosives, and the Department of Homeland Security were deployed to further investigate the scene along with EMTs and paramedics from the Ventura County Fire Department and AMR to assist victims.Nineteen survivors were rescued from inside the bar in total.
~ ~ ~ ~ ~
Just a day later, on November 8th the fire that would come to be known as the Woolsey Fire started just a mile away. The Woolsey Fire was a destructive wildfire that burned in Los Angeles and Ventura Counties of the U.S. state of California. The fire ignited burned 96,949 acres of land. The fire destroyed 1,643 structures, killed three people, and prompted the evacuation of more than 295,000 people.
The fire started in Woolsey Canyon on the Santa Susana Field Laboratory property, a complex of industrial research and development belonging to Boeing, in the Santa Susana Mountains above the Simi Valley near the boundary between Los Angeles and Ventura counties. The Santa Ana winds, which often are a factor for Southern California fires, pushed the fire in a southerly direction throughout the first day. The Ventura freeway between the San Fernando Valley and the Conejo Valley was closed as the fire crossed and headed into the rugged Santa Monica Mountains.
The fire raced through the chaparral-covered steep canyons where it encountered historic movie and TV sets, small ranches, the houses of celebrities, and the two homes, just a block apart, occupied by my adult stepchildren, their spouses, and my two teenage grandsons. Hundreds of houses in Malibu were destroyed or damaged on both sides of Pacific Coast Highway. Many of these were on Point Dume that juts out from the narrow coastal terrace that lies between the mountains and the Pacific Ocean. The mitigation measures Pepperdine University had in place successfully protected the campus, with students sheltering in place, to the south. The entire sparsely populated portion of the Malibu coast west to the community of Solromar, which includes state and national parklands, suffered damage from the fire. The fire cost at least $6 billion in property damage.
Life would never be the same for any of the people affected. My family first came to stay with me in Santa Clarita, and a few days later we all went to Santa Barbara to stay in the home I then lived in and to make some plans for the near future.
All of the events I've described here led me to the decision to finally build the home I had been dreaming of for so long. I already owned the raw land that would be perfect for this new home. As a result of these catastrophes, it became easier to pull a permit, take out a construction or "swing" loan, and to receive final approval to move in. Less than a year later, the main house was ready to move in. Within a month, we had already begun to discuss adding a guest house on the property.
Even Maggie the Cat loves the cottage. She's found just the right spot to sun herself in the morning. My daughter-in law keeps freshly picked sunflowers in a vase next to her special place. Maggie is a tall cat. As she twists and contorts her body, squinting into the sunlight from her vantage point, I am reminded of my own need to sit and think and meditate and daydream as I find my best position to transition into a downward human pose.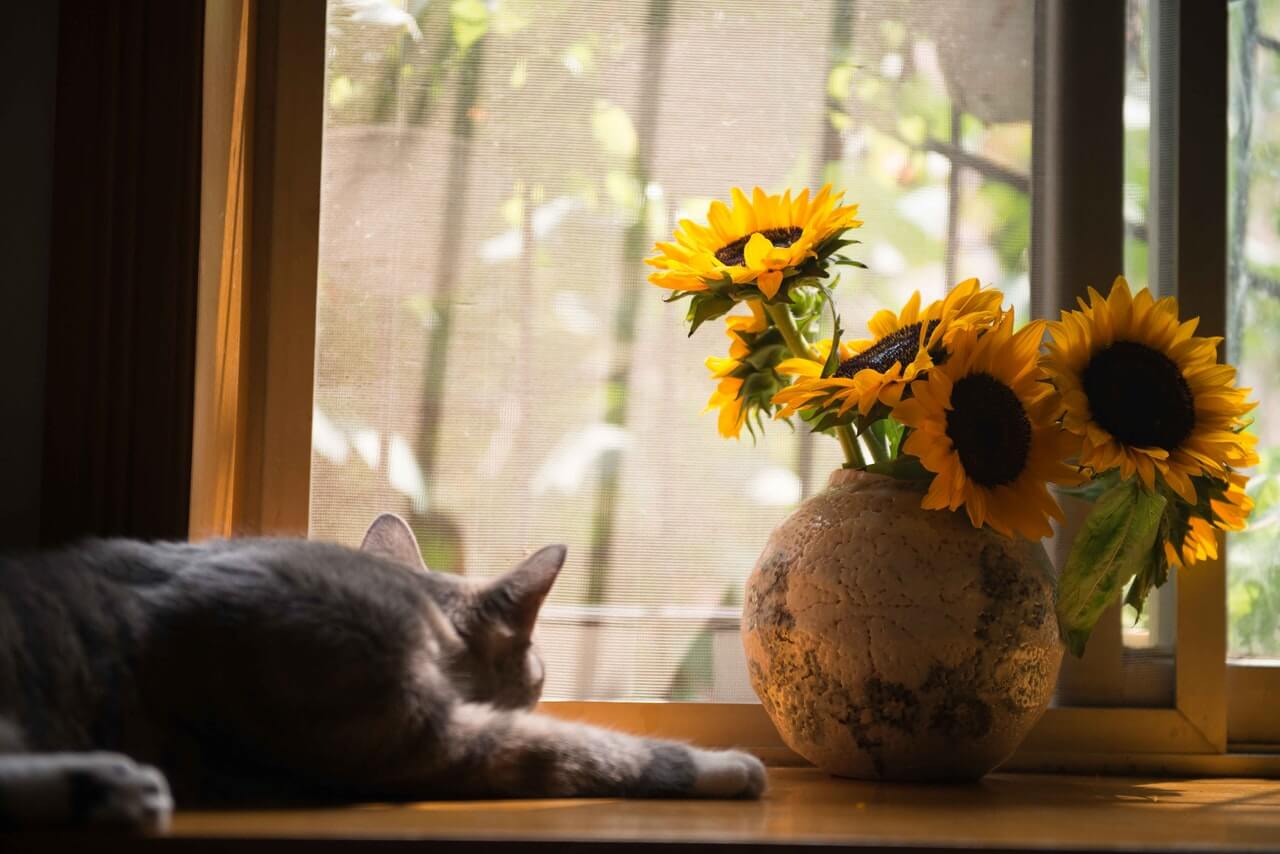 The architect for the cottage is a creative man I've known for some years now. He spent time with me and my family members over a period of months to get a feel for what we wanted to convey with the cottage. We have some creative talent among us and this sun porch on the back side of the cottage has become a favorite spot to sit and think and listen and gaze into the hillside at various points throughout the day. Perhaps I will paint a picture there in the near future. For now, it's the spot where I express my gratitude to God and the universe for the life I am living each day. Like a phoenix rising up from the ashes, I am strong and capable and able to serve others as a result of this lifestyle design of mine.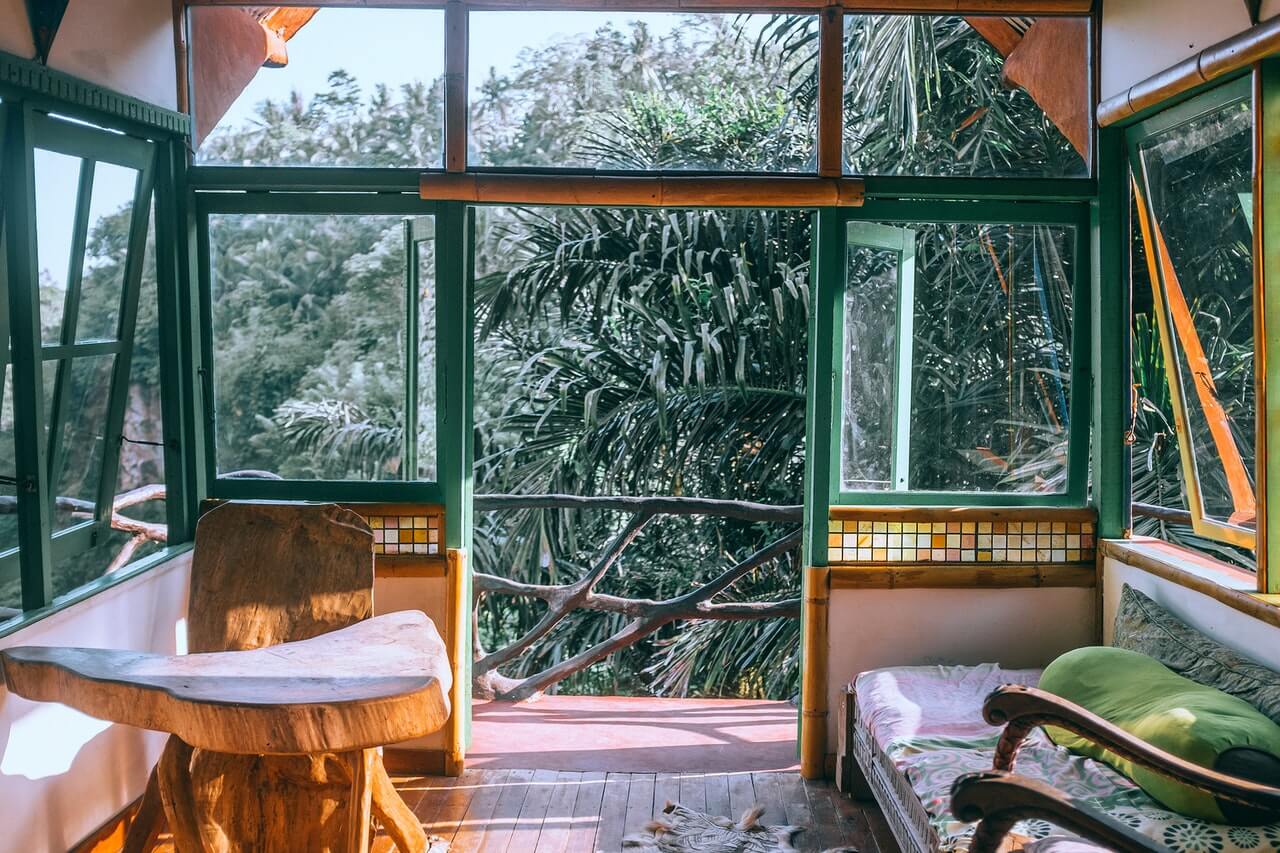 When I think back to the experiences I've had with each of my cherished family members over the decades, I understand that what we have is special and unique. The cottage represents the sacred space we give ourselves and each other, that few outside of our circle could even understand, at least not in the way we are living and sharing amongst ourselves.
I'm Connie Ragen Green, living the life I wanted and deserve and embracing each day for what it has to teach me about life in general, love in particular, and the human experience overall. Come along with me, if you will and we'll explore the hills and valleys we each resonate with and adore.