For almost half a century, I've had a love affair with Hawaii. It's a beautiful place that became the 50th U.S State on August 21st, 1959. This story of my experiences and the road to Lahaina is a very personal one.
The Hawaiian Islands are an archipelago of eight major volcanic islands and these are their native spellings – Hawai'i, Maui, Koho'olawe, Moloka'i, Lana'i, O'ahu, Kaua'i and Ni'ihau, several atolls, and numerous smaller islets in the North Pacific Ocean. Located about 2,000 miles (3,200 km) from the U.S. mainland in the Pacific Ocean, it's the only U.S. state outside North America, the only state that is an archipelago, and the only state in the tropics.
But this magical place is about much more than any geographical or geopolitical description, in my opinion. There's  an excellent reason so many people visit these islands and are forever transformed; but for each of us, the reason is one that cannot be put into words, at least not easily.
My first visit to Hawaii was during the summer of 1975. Bob, my first husband and the man who taught me how to navigate the world as a young adult, had asked me if I'd like to go there for a one-week vacation. It was the first summer I could remember that I wasn't either taking classes or working as a waitress or in retail, and typically doing both to earn some extra money to pay for books and supplies when I returned to college in the fall.
We were raising Bob's two children from his first marriage and his parents would be happy to spend that time with them at our house while we were gone. Hawaii sounded exotic and I kept having to remind myself that it was still in the United States, even if it was a group of islands almost four hours away by plane from California.
We booked the flights directly with the airline. Pan American offered two flights a day from Los Angeles to Honolulu at that time, and Hawaiian Airlines had flights between the different islands several times each day.
The Honolulu airport was welcoming to visitors from the mainland. They gently placed flower lei's over our heads and the aroma stayed with me in the taxi that took us to our hotel in Waikiki. The driver pointed out places we might want to visit, like the Pearl Harbor National Memorial – Bob was a Vietnam veteran – and the locations frequented by the original version of the TV series Hawaii Five-O, which was at the height of its popularity during that time.
On our first full day, we took the bus to the Polynesian Cultural Center on the North Shore of Oahu. Bob was a smoker and not happy when he was told that wasn't allowed on their property for religious reasons. It was the first time I felt like I wasn't in the States, but instead in a foreign land.
I walked with him down to the beach where the surfers gather because of the massive waves, and it was here that I first fell in love with Hawaii. Bob felt the magic too, and our relationship was strengthened during this trip. Just a few short years later he would be gone, and those memories would be even more precious to me. We walked back up the hill to meet our group. The guide was sharing some history that I had not been aware of before.
Until 1894, Hawaii was ruled by kings and queens. Hawaii was united under a single kingdom for 80 years, from the reign of King Kamehameha to that of Queen Lili'oukalani. During this 80 year period, the rules of succession evolved a lot. Initially, people eligible to rule only included family members.
A Supreme Court judge of the former Kingdom of Hawaii, Sanford Ballard Dole helped establish the Republic of Hawaii and was its only president. He was instrumental in the annexation of the islands by the United States and became the first governor of the Territory of Hawaii.
Hawaii was an independent republic from 1894 until August 12, 1898, when it officially became a U.S. territory, at the insistence of President William McKinley, and fueled by the nationalism sparked by the Spanish-American War.
On our final day, we walked through the Ala Moana shopping center at the edge of Honolulu and then visited the Dole pineapple factory that was founded by James Drummond Dole, a younger first cousin, once removed of Sanford Dole I mentioned earlier. We had an interesting tour of the factory and samples of the juice and the fruit while we were there. As we flew back across the Pacific Ocean to Los Angeles, I silently vowed to return to Hawaii as soon as possible. My souvenirs included chocolate covered macadamia nuts and  two shirts from Hilo Hattie's outlet store, but the most special ones were the photos I had printed at the drug store a few days later.
~ ~ ~ ~ ~
Time passed. I graduated from UCLA and applied to Law School. My stepkids grew older and their grandparents became more willing to let us have them with us most of the time. My dream of returning to Hawaii faded away but did not disappear.
Bob took a construction job in Teheran for a few months, I was accepted to a Law School in New York City, and we adjusted to the changes with grace and ease. Bob was home for a month and then accepted two more assignments; one in Israel and the other in Saudi Arabia. It was during that period that he became ill. Fourteen months later he passed away from Leukemia.
Several years later, my longest childhood friend, Tory called to tell me that our mutual friend Alex was getting married in Hawaii. I told him I had just received the wedding invitation and would love to be there for him and his fiancé, Mary Anne.
It was a whirlwind of planning as I arranged for time off from my job as a claims adjuster for an insurance company, made sure I had enough money for this trip, and asked my mother to stay at my house to take care of my dog. It all came together and Tory and I met at the airport.
When we arrived in Honolulu, it looked much the same as it had years earlier. We had to dash to our gate for the thirty minute flight over to Maui. There were people of all ages on the plane and we listened as they shared their experiences and love of the island of Maui.
I can remember thinking that I didn't realize every island that made up Hawaii would have it's own personality, but it did make sense. Maui's nickname is "The Valley Isle" and it boasted more than a dozen breathtaking waterfalls and beaches unlike any other in the world. Perhaps it was just their pride, but I was excited to experience this island through the eyes of those who called it home.
Tory and I only had one day with Mary Anne before the wedding festivities began. They were married on the beach behind the Westin Maui Resort & Spa, Ka'anapali  where they were staying. Tory and I were staying a couple of miles north in an area known as Kahana Beach.
I had lived in Miami from age eleven until I was eighteen, and had been to many beaches on both the Atlantic and Gulf sides of the peninsula, from Higgs Beach in Key West to South Beach to Cocoa Beach to Daytona Beach and beyond. Although each beach in unique in some way, they were truly all the same in my mind. But Ka'anapali Beach felt different to me that week. Perhaps it was because of the wedding and luau, or our group of almost a hundred people who'd come for the wedding, or maybe it was the sun setting on the islands of Molokai and Lanai in the distance.
I remember being stretched out on a beach chair and watching the sun set as I drifted away to sleep. When I awoke, the luau was still in progress and the fire dancers appeared like a dream in the distance. Tory found me and told me to come say goodbye to Alex and Mary Anne, as they would be departing for their honeymoon on the "Big Island" of Hawai'i first thing in the morning.
Tory and I still had a few days to explore the island before we had to return to the mainland. We rented a car and drove down the road to Hana and the Seven Sacred Pools and waterfalls. Every moment and each stop we made was more gorgeous and magical than the last. We had now driven all the way around the island, so I thought the only thing left to see would be the Haleakala Crater National Park.
The Haleakala (this word means "House of the Sun") Crater is situated 10,023 feet above the Pacific Ocean, and takes up three-quarters of Maui's 727 square miles. The sunrise inspires 1.5 million visitors to see it each year. Its ascent takes trekkers through 6 of the world's 14 climate zones, while its depression was deemed the quietest place on the planet by acoustic experts, who found that its ambient sound levels were "near the very threshold of human hearing.
NASA has used this site for experimenting over the decades, as the surface resembles that of the moon. There's also an observatory you can visit. The one thing I never had a wish to do was to be brought up to the top of Haleakala in a van and then ride a bicycle to the bottom, although watching this is an adventure into itself.
According to Hawaiian legend, the goddess Hina complained to her son Maui that the sun moved across the sky too fast for her tapa cloth to dry. The next morning before sunrise, Maui went to the top of Haleakala and waited in hiding. When the Sun awoke, Maui lassoed him, and beat him into submission. Maui then made the Sun an offer he couldn't refuse: he would let the Sun go, but in return the Sun would have to cross the sky much more slowly from that day forward.
The Sun agreed, Maui released him, and we're now blessed with long sunny days!
~ ~ ~ ~ ~
Another few years passed, and I was then working as a classroom teacher. I met and began dating a man named George, and we talked about Hawaii in great detail on our first dinner date. He had moved to Honolulu the summer after high school graduation and lived there for two years. He worked as a pedicab driver, taking tourists all over the city and telling them about Hawaii. He worked at night, allowing him to surf and explore Oahu and the other islands during the day.
George loved Maui and we compared notes on what we had each experienced while we'd visited there in the past. Because he had been in the islands for two years, his experiences and memories were richer and more detailed than mine. On this first date, he told me he wanted to visit Hawaii with someone special, and to show her his favorite spot in all the world… Lahaina on the island of Maui. He had a cat named Maui and a bunny named Hale (pronounced HAW-lee and short for Haleakala) but no creature named Lahaina.
Our relationship progressed. We hiked all over the Los Angeles area, camped in Yosemite and other locations in northern California, and went to the beach at Paradise Cove in Malibu. One night I asked him why he never mentioned going back to Hawaii, at least for a visit. George took my hands in his, looked deeply into my eyes and said,
"I love you, Connie. If you can honestly say that back to me, then I want to talk about us going to Hawaii together."
~ ~ ~ ~ ~
I did love him and fortunately had the courage to say it to him that evening, and that began the next phase of my life. His family was excited when we told them about the trip we were planning and his sister told me privately that she knew he must be in love with me because he wouldn't go back to Hawaii with anyone else, not even family members.
George told me more about his time living in the islands, and that he always felt a little sad when he saw happy couples enjoying their time their. He had longed to find the right person for him, but had not found her in Hawaii or back in California. A decade had passed, and now we were a couple who could discover more magic, together.
I was teaching at a year round school, so I had two six-week vacations each year. We made our plans, bought our plane tickets, and flew directly to Maui on a non-stop flight. We had a condo close to the beach and we went to the Safeway to get some groceries. We made sandwiches before we left for the day. When I asked him where we were going first, he smiled and told me we would be driving the road to Lahaina. My life would be forever changed on that day.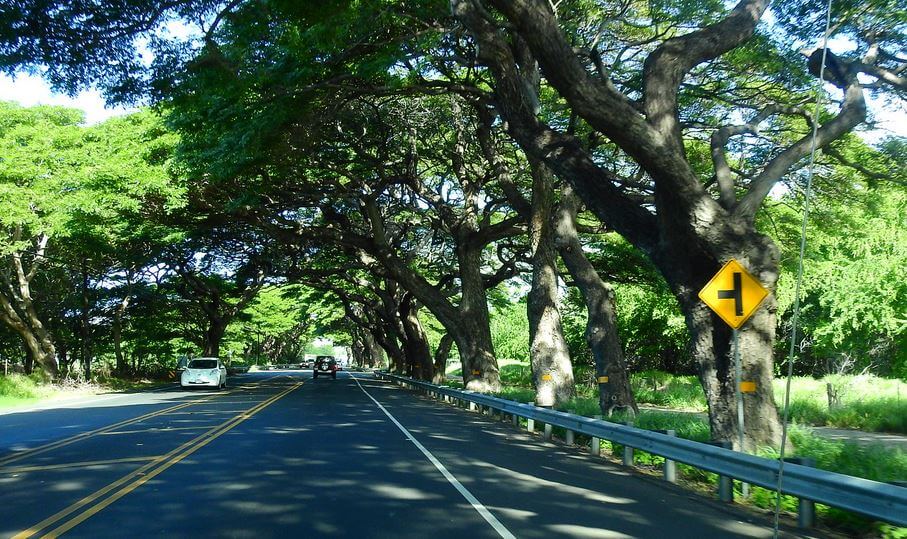 Lahaina became the capital of the Hawaiian Kingdom in 1802 when King Kamehameha chose it and built a brick palace there. Lahaina remained the capital for 50 years, until it was replaced by Honolulu, on the more populated island of Oahu. This allowed the island of Maui, and particularly the town of Lahaina to catch its breath and become a safe haven to all. Whether you love water sports, fine art, world-class restaurants, or something you can't quite label and won't be sure of until you land right on top of it, this is the place where all of the loose ends will come together.
Driving on the road to Lahaina is an experience that will catch you by surprise; you'll think you are traveling along any road going to visit places that are interesting but not so special. Then you'll feel the tightness in your chest as you struggle to catch your breath. Finally, you'll wipe away any wetness that may have momentarily clouded your vision and tickled your cheeks. You'll sit or stand up straight, attribute your feelings to something you ate that did not agree with you, and move forward with intention.
Then, and only then will you come to understand that what is occurring is something you cannot understand, explain, or recreate anywhere else on Earth. This magic is reserved for those who choose to believe in the possibilities of life and of living life to the fullest, and whom are also more apt to embrace life change in a way that propels you forward into the next chapter of your life. I recommend you make the drive on the road to Lahaina at least once during your lifetime.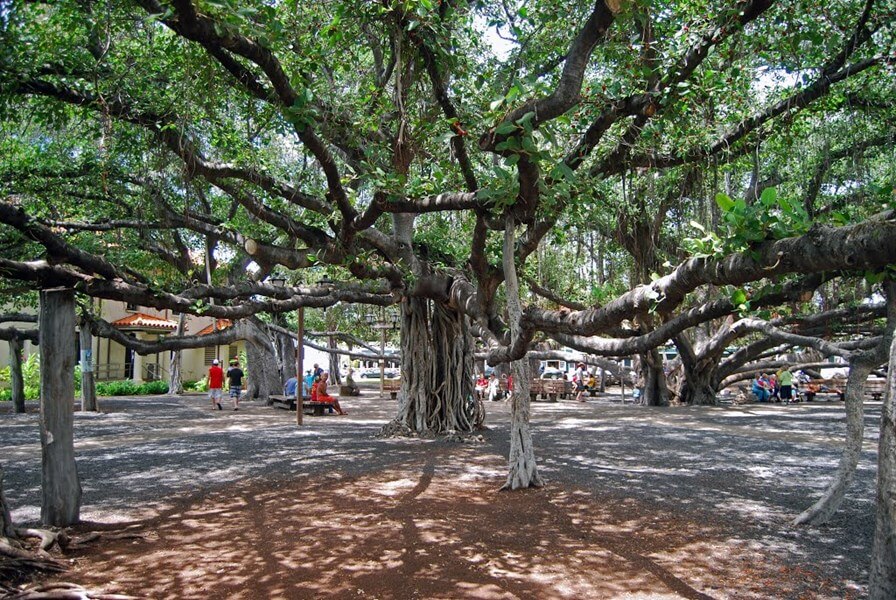 Front Street is the gateway to Lahaina. Lined with art galleries, restaurants, souvenir shops, and clothing stores, you know immediately that you have entered a world like no other. And in the middle of the town is the 150 year old Banyan tree, a gift from India during the 1800s.
George and I would part ways five years later. But during those years we spent considerable time in Hawaii as often as possible. He had his own business and I had twelve weeks of vacation each year from my teaching job, allowing us to visit for a total of at least eight weeks every year. Those memories are deeply embedded in my soul forever.
~ ~ ~ ~ ~
Years passed, but I always knew that I would return. Once I started my business in 2006 my time became my own. That's when I began planning vacations that included family and friends from around the world.
It began with three of us visiting Maui for a week and taking in the breathtaking beauty and magic of this sacred space in a relaxed and intentional way. The Seven Sacred Pools (Pools of 'Ohe'o) in Hana solidified our joy to make this island one to share with others. The road to Lahaina became one we could navigate with our eyes closed, as we internalized every inch of our journey each day.
Since that time, I have returned every couple of years with family members and a few friends, most often during the time between the beginning or middle of December through the end of the first week of January. I did the math as I was writing here, and it adds up to me spending almost two full years of my life in the Hawaiian islands during a span of almost a half-century.
I am heartbroken about the wildfires that have claimed so many lives and devastated Lahaina and the surrounding area. I have no doubt the people and the location will come back stronger, rising up like a Phoenix and building back in a way that honors both the past and the future.
This article is a work in progress that I will update as new information and details are available.
I'm Connie Ragen Green, in awe of the nature and creatures all around us and believing that Lahaina will rise up from this catastrophe stronger and more intentional and resilient than ever.